NFL Week 2 Picks for 2023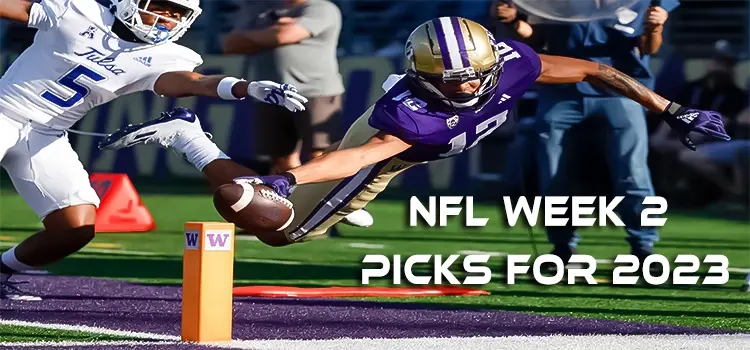 NFL Week 2 kicks off when the Philadelphia Eagles host the Minnesota Vikings. We have your Week 2 NFL picks right here for you. This week's Thursday Night Football matchup can be watched exclusively on Amazon Prime Video.
Week 1 saw tons of divisional action, with multiple other high profile games, and our Week 2 NFL picks will involve much the same. We're only a week in, but no team wants to start the new season 0 and 2. There are a few games that are must-see TV, with some teams needing to prove themselves early.
Finding Value in Underdogs
Six underdogs won straight up in NFL Week 2 in 2022. That included the Jets as a 6.5-point dog in Cleveland, Miami a 3.5-point underdog visiting Baltimore and Dallas giving 6.5-points to Cincinnati as a home dog. Other underdog winners included Jacksonville (vs. Indy), NY Giants (vs. Carolina) and Arizona (@LV).
Week 2 is a difficult week for sportsbooks. Sharp bettors can always find profit on their Week 2 NFL picks. This difficulty comes from over-reaction, or sometimes no reaction to week 1 results. Did some teams just have trouble getting out of the gates? Was there a particular offensive lineman that wasn't ready, and his opposing d-line took advantage of him all day?
Maybe oddsmakers were wrong about a few teams, but won't budge the line. It could be arrogance or genius. That's for expert football handicappers to figure out for their Week 2 NFL picks. Knowing which spots to hammer will increase your overall betting budget every week of the football season.
Games to Watch During NFL Week 2
We already talked about the dogs leading the pack in week 2 last season, let's see who's ready to surprise in our Week 2 NFL picks. The Jaguars get to show if they're for real in Week 2, hosting the Chiefs. These two met in what seems to be just a few months ago – January 21st – on Divisional Weekend.
Jacksonville put up a good fight, but lost 27-20 to the eventual Super Bowl champs. Now they get a chance to show the world they're for real. We get two divisional matchups – NO @ CAR & CLE @ PIT – on Monday Night Football to please anyone betting on Week 2 NFL picks.
Other notable games include:
Baltimore @ Cincinnati
Jets @ Cowboys
Miami @ New England
Seattle @ Detroit
Green Bay @ Atlanta
LA Chargers @ Tennessee
Best NFL Week 2 Picks – Top Football Betting Markets
Every week, SportsHub will bring you top plays for the most popular betting markets. If you want to get the real sharp action, all you have to do is become a member. It's free and easy – just give us your name and an email you can verify. Then you're part of the fastest growing community in sports betting.
Our NFL experts rubbed their heads together, and came up with their best plays for a number of the most popular NFL betting markets.
You will find many variations of picks, including, but not limited to:
Best pick against the spread
Best moneyline pick
Best total bet: OVER and UNDER
Best player prop
Best team prop
There will be no shortage of picks at Sports Hub. Our Week 2 NFL picks will put us on the map as a place where every bettor needs to visit.
Best Pick ATS
One of the best Week 2 NFL picks to make will take place in the NFC West Division as the San Francisco 49ers visit the Los Angeles Rams. San Francisco is on the road for a second straight week after destroying the Pittsburgh Steelers in Week 1.
The Rams actually looked pretty good in Week 1, but that win came against the lowly Seattle Seahawks. San Francisco should have no trouble scoring points in this game, as they are going to roll to another double-digit victory. 
Best Moneyline Pick
The 1-0 Baltimore Ravens travel to Cincinnati on Sunday to take on the 0-1 Bengals, and this is a must-win game for the home team. Cincinnati did not look good in the season opener, but the rain had a big role in that outcome.
Baltimore didn't exactly look great in beating the Houston Texans, and they are now without running back J.K. Dobbins. There will be a sense of desperation on the part of the Bengals in this game, and they will take care of business and win but won't cover the spread. 
Best Total Pick
Looking at the over/under is another great betting option when it comes to the NFL, and there are some interesting lines for several of the games. Most people tend to focus on betting the over, but there are going to be some games in which points are hard to come by.
The New York Giants and Arizona Cardinals are set to meet up in Week 2, and both of these offenses are expected to struggle. One of the best Week 2 NFL picks to make is to bet on the under 40.5 points as both the Giants and Cardinals fail to score. 
Best Player Prop
The Chicago Bears looked awful on Sunday when hosting the Green Bay Packers, and there are now some big questions surrounding that offense yet again. Chicago now travels to Tampa Bay to face the Buccaneers, and that team actually won the series opener.
It's going to be up to Justin Fields to get this team back on track, and he will do all he can for the Bears in this one. Fields was not able to find the end zone in Week 1, but he is going to hit pay dirt in this Week 2 matchup. 
Best Team Prop
The Kansas City Chiefs and Jacksonville Jaguars are set to meet up in Week 2 in what is going to be a massive game for each team. Kansas City is looking for their first win of the year, while Jacksonville is looking for a statement win.
The Chiefs should be able to respond with a victory in this game, but it's not going to be easy for them in this one. Even if Kansas City is able to win this game, that defense is going to give up at least three touchdowns in this one. 
---
Seattle Seahawks vs. Detroit Lions
After a thrilling Week 1 win at Kansas City, you have to be looking at the Detroit Lions when making Week 2 NFL picks on Sunday. Detroit now returns home to host the Seattle Seahawks, and this is going to be an interesting matchup.
The Lions have an offense that can put up points in a hurry, but the Seattle Seahawks should be able to do the same things. Detroit will move to 2-0 with another impressive win, but taking the 5.5 points is the way to go in this one. 
Green Bay Packers vs. Atlanta Falcons
A pair of 1-0 teams meet up in Atlanta this weekend as the Falcons host the Green Bay Packers. It's still hard to know what to make of either team, and that's why the Packers are a slim one-point betting favorite in this matchup.
Quarterback Jordan Love was solid for GB in the season opener, but he didn't exactly have a dominant performance. The Atlanta Falcons were solid in beating the Carolina Panthers, but they won't be able to win this one. 
Los Angeles Chargers vs. Tennessee Titans
The Los Angeles Chargers suffered a brutal loss at home to the Miami Dolphins in Week 1, and that defense was a disaster. Los Angeles shouldn't have as much trouble this weekend on defense as they are facing a Titans team that isn't great on offense.
The Tennessee Titans are three-point underdogs in this matchup, and they look like it might be a long year for them. Los Angeles is going to take out some frustration in this one as they roll to a big win. 
Indianapolis Colts vs. Houston Texans
If you are looking for a game with a ton of offense, then look no further than the matchup between the Indianapolis Colts and Houston Texans. Indianapolis nearly pulled off a win against the Jacksonville Jaguars in Week 1, and quarterback Anthony Richardson was putting on a show.
Houston should be a great offensive team, as rookie CJ Stroud has all of the tools to light up the scoreboard. There won't be a ton of defense played in this one, and going with the over 40 points is one of the best Week 2 NFL picks to make. 
New York Jets vs. Dallas Cowboys
The Dallas Cowboys might have been the most impressive team in Week 1 as they went to New York and picked up a 40-0 win over the Giants. Dallas will now host the other New York team in Week 2, and the Cowboys are catching a huge break.
Aaron Rodgers is not going to be playing quarterback for the Jets for the rest of the season, and that's going to create some serious issues. The Jets are a team that can get stops on defense, but you should expect to see the Cowboys roll over them in this one. 
We know it can be difficult to figure out the NFL. Just when you think you have a good feel, your picks go 0-5 in one week. Let us do the dirty work and get you on the way to start winning more bets. Week 2 NFL picks is the best time to start.
Week 2 NFL Picks FAQ
What games should bettors target in NFL Week 2?
When looking at Week 2 NFL picks, there are trends to note, while also not overreacting to week 1 performances.
What is the NFL lineup for Week 2?
There are plenty of storylines as we head into Week 2. No team wants to start 0-2, with every week meaning so much. Vikings @ Eagles open it up on Thursday Night Football, Jets @ Cowboys getting lots of media attention.
How can I win my Week 2 NFL Picks?
Follow SportsHub for tips and strategies leading up to kickoff for all your Week 2 NFL picks information. Or tail our handicapping experts to build your bankroll early in the football season.