The search for daily free capper picks is over. You've come to the right place. Sports Hub is the industry's No. 1 location for sports picks. Among those picks are daily free capper picks as well as computer-generated predictions and premium service plays from the best handicappers in the business. I've been doing this daily report for just two and a half months now and the Sports Hub membership continues to grow.
One of the big reasons why more and more bettors are joining SportsHub is the picks. Bettors can log into their accounts on a daily basis and get picks from handicappers that have proven track records of winning. Take last night as an example. There were a number of TNF free picks in the system. Members can see on a daily basis how handicappers are performing. For example, over the past two weeks, Sports Hub expert cappers William Taylor and Mario Deluca are each up nearly $1,000. Armed with this information, our members can then choose to use their picks whether they be daily free capper picks or premium service plays.
Sports Hub's Daily Free Capper Picks
It's easy to find our daily free capper picks here at Sports Hub. From our home page – which is laid out with the user in mind – you will find the Pick Center near the top left. Hover over Pick Center to reveal a drop-down menu. From that menu, select "Free Picks." This will take you to our daily free capper picks page.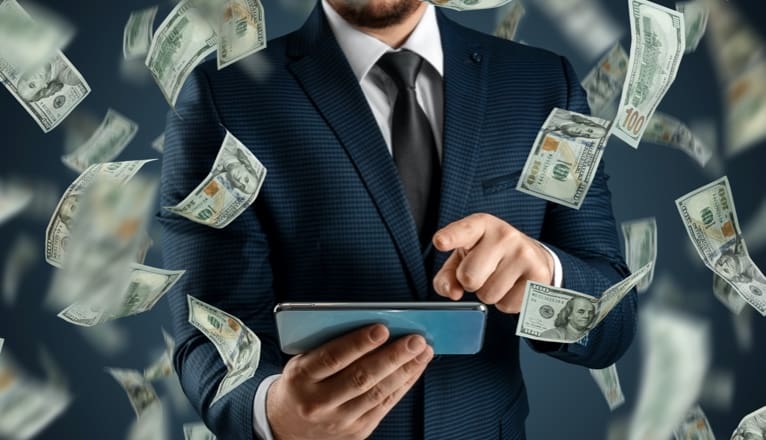 Scroll down the page and you'll find a section full of today's free picks. You can use the menu on the page to change sports and see what daily free capper picks are available. When you find the game or event you are searching for, click the blue button that shows how many free picks are available. That will take you to the members area where you can see all of the free picks.
You do need a Sports Hub membership to access these daily free capper picks. Joining is easy and painless. Click the orange JOIN NOW button at the top of this page. Follow the directions given. Verify your email and that's it. You're a Sports Hub member. That membership will allow you to access all of our daily free capper picks as well as SportsHub computer picks, service plays, and more. Read on and you'll see why your Sports Hub membership has value.
Sports Hub Experts Dominate Thursday's Leaderboard
What if there was a way that you could get daily free capper picks and go 15-0 and win $1582? Well, you can. Now, not all of their picks were free yesterday, but six of our Sports Hub exclusive handicappers combined to hit all 15 of their picks on Thursday. If you had picked as they did, you would have won $1582 if you were a $100 bettor. That's value!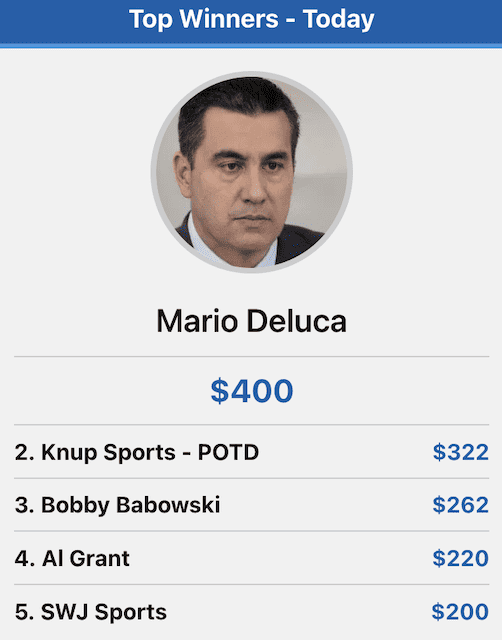 You do have to check the members' area every day, but you will find daily free capper picks from guys who do a lot of winning. We have numerous SportsHub experts with winning percentages of over 55 percent for the last 30, 60, 90 days and more. Consistent winners. That's what you'll find here at Sports Hub.
Let's look at our winners from yesterday.
Big winner: I mentioned Mario Deluca earlier. It was actually he who topped yesterday's board, going 4-0 with $400 in winnings. He's no stranger to this part of the leaderboard and he's been killing it over the last two weeks. Mario is also second on the 7-day and 14-day leaderboards.
Lots of winners: In addition to our Sports Hub experts at the top of the board, we had 38 cappers who took home winnings yesterday. That's a whole lot better than losing. Among the winners was Sports Hub FREE PICKS, which went 2-1. Our Sports Hub FREE PICKS are now 7-3 with winnings of $405 over the last four days.
Knup Sports: These guys have been consistently producing wins over the last 30 days. Yesterday, they went 5-2, all on MLB picks, and added $322 to their bankroll. Over the last 30 days, they are up $1287.
Sports Hub expert goes 3-0: Diego Garcia is well known at Sports Hub and he put his talents on display yesterday with a perfect 3-0 day. He doubled up on the NFL Thursday night game hitting the Eagles 1H spread and the game total. Diego won $300.
More Sports Hub experts: The next four guys on the board are all Sports Hub exclusive handicappers. They all went 2-0 and if you find that any of them are offering daily free capper picks, you should jump on them. Bobby Babowski led the way with $262 in winnings. Al Grant won $220 and SWJ Sports and James Anderson each won $200.
Daily Free Capper Picks Trending at Sports Hub
As you can see from our leaderboard, our guys are good at winning. That's why you should be giddy with excitement when you check the daily free capper picks page. Day after day, we release free picks here at Sports Hub and every day we have numerous handicappers picking winners.
Now, our free picks aren't the only thing trending in the sports world. There is plenty going on as we head into another full weekend of football. And, no we didn't forget about all of the other sporting events taking place. Check the schedule below for what else is happening today.
Here's a look at what's trending.
Why Coach Prime: It's Week 3 of the college football season and once again an opposing coach has to take a shot at Colorado head coach Deion Sanders. Colorado State head coach Jay Norvell made some comments about Coach Prime's habit of wearing a hat and sunglasses. That strategy is likely to backfire this Saturday. The Rams travel to No. 18 Colorado for a night game that is surely to be entertaining.
Kirk Cousins: The Vikings QB lost once again in prime time, but it was no fault of his own. Cousins went 31-of-44 for 364 yards and 4 touchdowns. He finished the game with a QB rating of 128.4. Too bad he couldn't play defense.
Rays win: With a 4-3 win over Baltimore yesterday, Tampa Bay moved to within a game of the Orioles for the top spot in the AL East. The two teams have three more games remaining this weekend and things could get very interesting. The Rays are 8-2 in their last 10 games. Check the members' area for any daily capper free picks for MLB games today.
Eagles run game: Philadelphia's ability to run the football last night is what helped them beat Minnesota. The Eagles ran for a total of 259 yards. D'Andre Swift ran for 175 on 28 carries. He scored once and QB Jalen Hurts added 35 yards and two TD runs.
Friday's Schedule Gets Us Ready for the Weekend
We get another taste of some college football tonight. There's plenty of baseball action and the WNBA continues its playoff season. All of this will get us ready for another beautiful football weekend. Don't forget to check out our Week 2 NFL picks page to get you primed for all the action on Sunday.
Here's what's on tap for today.
Friday night college football: After two games last night, Friday night gives us three college football games. Virginia is at Maryland in a battle of border states and then the remaining two service academies play after Navy's loss to Memphis last night. Army plays at UTSA and Air Force hosts Utah State in a Mountain West clash. Check the members' area for daily free capper picks for these games.
Baseball weekend: There's not too many baseball weekends left. The whole league is in action today. Those teams that were off yesterday join the rest for their weekend series. The Rays beat Baltimore last night to inch closer to the O's and first place in the AL East. The Orioles can clinch the division with two victories over the weekend.
Football up north: It's a CFL doubleheader tonight as Week 15 of the season begins. Toronto (10-1) travels to Montreal (6-6) and the Argonauts can clinch the East Division title with a win. The night cap features 3-10 Edmonton traveling to 6-6 Saskatchewan.
WNBA playoffs: It's Game 1 in the other two WNBA playoff series. Washington plays at No. 2 seed New York and Atlanta travels to Dallas to start their best-of-three series. The Liberty are the favorite to win the WNBA title this season.
Women's tennis: There are currently five women's tennis tournaments taking place. The Guadalajara Open Akron just started yesterday. Four others – The Kinoshita Group Japan Open, the Cymbiotika San Diego Open, the Tiriac Foundation Trophy, and the Zavarovalnica Sava Ljubljana will all end this weekend.
Fortinet Championship: After one round, Lucas Herbert has a two-stroke lead in the Fortinet Championship after shooting a 9-under 63 yesterday.
The world's game: There is always soccer being played somewhere. NCAA men's and women's soccer dominate today's schedule. There are matches in La Liga and Bundesliga as well as many other European and South American professional leagues. Check the members' area for any daily free capper picks.
That'll do it. While yesterday teased us just a bit, today teases us a little bit more as we await the mountain of college football games tomorrow. Don't forget to check the Week 3 NCAA football picks page to get you all prepped and ready to go for Saturday. Our Sports Hub experts will surely have a number of daily free capper picks for Saturday's games. Don't miss those and don't miss tomorrow's daily report. We recap today and get you ready for a weekend of winning!