2023 WEEK 3 NCAA FOOTBALL PICKS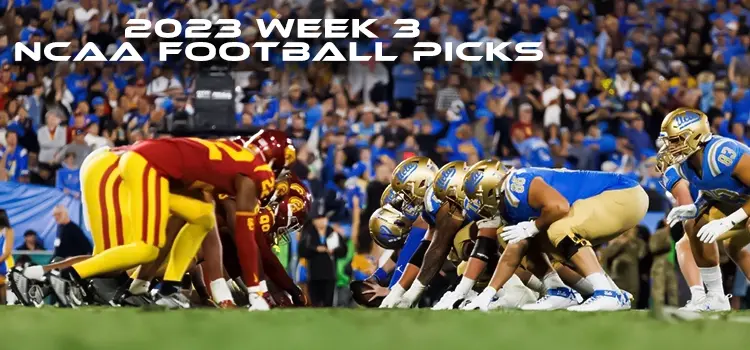 Hey, let's kick off Week 3 of the college football season with a Backyard Brawl! Or how about some Power 5 conference matchups? Don't worry. Week 3 has it all and more and Sports Hub is here with the best Week 3 NCAA football picks. Call us butter, because Sports Hub is on a roll!
For the first time this season, fans and bettors get a look at big-time college football conference action. The SEC plays a number of conference games including the annual Third Saturday in September party in Gainesville, Fla. Preseason No. 12 Tennessee travels to take on the Gators in this annual early season clash. It's not the only game in the SEC either. No. 1 Georgia hosts South Carolina and fifth-ranked LSU is at Mississippi State.
The Big Ten starts to get after it too with Penn State playing at Illinois. Later in the afternoon, Big Ten fans will get a glimpse into what it will be like next season. Washington, a preseason top-10 team, travels to Lansing, Mich., to take on Michigan State. The Huskies will become a full-time member of the Big Ten next season. Regardless of the year, Sports Hub will be here with analysis, inside information, and, of course, Week 3 NCAA football picks.
Sports Hub Committed to Delivering College Football's Best
Week in and week out, Sports Hub continues to bring you the best in news and analysis of college football, teams, game reviews, previews of upcoming games, and picks. For this week, our focus is on Week 3 NCAA football picks. Our experts have a few weeks under their belts plus their offseason work to really hone in on the week's best bets.
Every week when you visit our picks page, you will be presented with information about the top matchups of the week. You will hear from our CFB gurus on the best bets of the week. We will offer best bets in various categories such as best moneyline bet, best ATS bet, and so on. It's part of the Sports Hub advantage.
Week 3 NCAA Football Picks
It's really the heart of what we do here, picks that is. Sports Hub has assembled the best NCAAF handicappers all in one spot. You can bet that if a capper is offering his services here at Sports Hub, he's had some years of success in the industry. Plus, Sports Hub is all about transparency. Once the Week 3 NCAA football picks are done, we put up a leaderboard with the results. Handicappers can't hide at Sports Hub and bettors reap the benefits.
Each week, we will share with you the top CFB handicappers, their performances the week prior, and how they have done for the season. We have cappers that focus on certain conferences, certain schools, and even one that focuses on one bet type. Totals Guru is one such capper that only bets on game totals. Throughout the summer, Totals Guru had several positive weeks. We're looking forward to what Totals Guru does this college football season.
Best Pick ATS
Minnesota travels to North Carolina on Saturday for a matchup between the Big Ten and the ACC. Both teams come into this game with a record of 2-0, but these teams haven't exactly been getting the job done in the same way.
The Golden Gophers want to slow the game down and try to win it by racking up rushing yards, but that's not going to work against North Carolina. The Tar Heels are explosive, and taking them at -7.0 to cover the spread is one of the Week 3 NCAA football picks to make.
North Carolina Tar Heels -7.0
Best Moneyline Pick
Iowa State travels to Ohio on Saturday, and the Cyclones are hoping to get back on track after a rough game against Iowa. The Cyclones set themselves up for a tough matchup in Week 3 as the Bobcats are already 2-1 this season.
The spread on this game is just 2.5 points for Iowa State, but it's hard to bet on the Cyclones to cover more than a point in this one. Iowa State will win it, but it's not going to be easy.
Best Total Pick
Georgia Southern and Wisconsin are set to meet up on Saturday, and this should be an interesting matchup. Wisconsin fell out of the Top 25 after suffering a loss to Washington State, and the Badgers will be trying to get back on track.
Wisconsin has to get back to running the football, and that is going to chew up some clock in this matchup. Georgia State has been playing extremely fast through the first two games of the year, but they are going to be slowed down on offense in this one.
Georgia State/Wisconsin Under 63.0
Best Player Prop
The Illinois Fighting Illini host the Penn State Nittany Lions on Saturday in the Big Ten Conference opener for each team. Penn State has roared out to a 2-0 record through the first two weeks, and they have been getting the job done through the air.
Illinois is allowing 477 yards per game this season, and they have a young secondary that is going to be tested in a big way on Saturday. Penn State quarterback Drew Allar is capable of putting on a show in any game, and he is going to have little resistance in this one as he throws for at least three touchdowns.
Drew Allar Over 2.5 TD Passes
Best Team Prop
LSU travels to Mississippi State on Saturday morning, and this is going to be a big game in the SEC. The Tigers were able to bounce back in Week 2 after suffering a loss to Florida State in the season opener, and now they want to show they can beat SEC teams.
Mississippi State is a 14-point underdog in this one, and it's hard to see them keeping this game close at all. LSU is not going to be messing around on Saturday as they take control of this game early and lead in both halves.
---
Kansas State Wildcats vs. Missouri Tigers
Kansas State and Missouri will meet up on Saturday in a battle of 2-0 teams, and this should be a great game. The Wildcats are 5.5-point betting favorites over Missouri, but the Tigers are a team that has some real talent.
You should expect both teams to get some stops in this one, and neither team is going to be able to run away from the other in this matchup. This is a game in which betting the moneyline is the play, and you will want to take Kansas State.
Kansas State Wildcats -225
Vanderbilt Commodores vs. UNLV Runnin' Rebels
The 2-1 Vanderbilt Commodores travel to Las Vegas on Saturday night for a matchup with the 1-1 Runnin' Rebels. Vanderbilt suffered a 36-20 loss to Wake Forest in Week 2, but they actually played well in that matchup.
UNLV really struggled on the road at Michigan to get anything going on offense, and that team is not going to find much success in this one, either. The Runnin' Rebels are going to battle with Vanderbilt in this game, but the Commodores are going to win and cover the spread.
Vanderbilt Commodores -4.5
Liberty Flames vs. Buffalo Bulls
When making Week 3 NCAA Football picks, you should always be looking for a chance to score an upset, and you will get that opportunity in a matchup between Liberty and Buffalo. The Liberty Flames come into this game with a perfect 2-0 record, while Buffalo has yet to win a game.
Buffalo is a member of the MAC, and that conference always seems to deliver some big results throughout the year. Liberty is going to face a tough environment on Saturday, and it will be the Bulls who are able to come up with a win.
Virginia Tech Hokies vs. Rutgers Scarlet Knights
You should be looking at Power 5 Conferences when making Week 3 NCAA football picks, and there is an interesting matchup between Virginia Tech and Rutgers on Saturday afternoon. Virginia Tech comes into this game having just suffered a home loss to Purdue, and Rutgers is a better team in the Big Ten Conference.
The Scarlet Knights have looked dominant so far this season, as they have rolled to a pair of wins over some solid opponents. Rutgers isn't going to be a team that challenges for the Big Ten Conference title, but they will pick up a win in this one.
Rutgers Scarlet Knights -4.5
Pittsburgh Panthers vs. West Virginia Mountaineers
The Pittsburgh Panthers and West Virginia Mountaineers are set to resume their massive rivalry on Saturday night in a matchup that will receive prime-time attention. Both teams come into this game with a record of 1-1, but they could actually be better than that as well.
The spread in this game is virtually non-existent, but it is Pittsburgh that is a slight betting favorite. Forget about betting the spread in this one and bet on West Virginia to protect the home field and win this one.
West Virginia Mountaineers -105
Conference Action Part of Our Week 3 NCAA Football Picks
Power 5 conference action is finally here. That opens up a whole new ball game for the teams involved as well as college football bettors. This week we'll see how Georgia fares against a solid South Carolina team looking to make the move into the upper echelon of the SEC after last year's 8-5 campaign.
There will still be plenty of early season non-conference matchups. Will these big double-digit underdogs continue their trend of cashing in these early September games? Will one of college football's 2023 surprise teams be identified this week?
Stay tuned. Sports Hub will have all the details as well as your Week 3 NCAA football picks. Stick with us all season long as we break down each week. We'll preview the top games of the and our experts will show you their weekly best bets. It's part of our commitment to delivering the best college football information available to our readers.
Week 3 NCAA Football Picks FAQs
How can I effectively bet on the CFB point spread?
First, you must understand what a point spread bet is. You are wagering on the final scoring margin of the game. Sportsbooks use the point spread and the corresponding odds to influence the amount wagered on each side of a bet. The books want to take in an even amount on both sides. That's why point spreads change throughout the week. Knowing when to bet on a point spread is also important. For more on this subject, consult the Sports Hub betting library.
How can I find Week 3 NCAA football picks at Sports Hub?
There are a few ways to find the Week 3 NCAA football picks at Sports Hub. The easiest is to sign up for a Sports Hub member account and log in. Once inside your dashboard, you can choose "Games" from the menu on the left side of the page. Picks are sorted by sport. You can scroll down to find college football picks or you can use the drop-down menu and click "College Football."
What teams should I bet on in Week 3?
Instead of thinking about which teams to bet on, think about coaches. Here's why. In considering NCAA football Week 3, smart bettors are looking at head coaches whose teams typically cover spreads. For example, there are five programs all with cover percentages of 60 percent or higher over the last five seasons. Four of them – Tulane, Minnesota, Oregon State, and Oklahoma State – have head coaches that have been at their school at least five seasons. The other head coach, Kansas State's Chris Klieman, has been with the Wildcats since 2019. Of the five, Kansas State has the highest cover percentage at 63.3 percent (38-22-2).