One of our goals at Sports Hub has always been to deliver the best handicapper picks across all sports. We have gathered the absolute best cappers in the industry and put them on our platform. Here, they can provide daily sports picks to bettors all over the world.
To access Sports Hub handicapper picks, all you need to do is become a member of Sports Hub. It's a pretty easy process. You click the JOIN NOW button at the top of this page. Fill in your information and then verify your email address. Once verified, you're in! It's that simple and the benefits will help you become a winning bettor.
All Sorts of Picks at Sports Hub
Our handicappers offer free picks on a daily basis. No longer do bettors have to search the internet for free picks. We do all the dirty work and gather those freebies and put them in one easy-to-access location. This saves bettors time. Plus, the picks are from trusted expert handicappers with histories of handicapping success.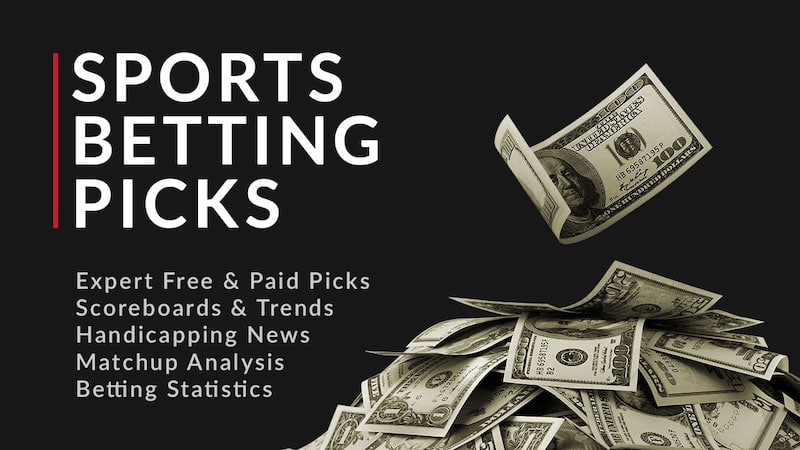 We have computer picks that come from artificial intelligence software that relies heavily on statistics. Our computer picks have serious value because they are only released in situations where there is a two-point difference between the actual betting line and the computer line. Over the last four years, our computer-generated picks are winning at a nearly 60 percent clip!
Our handicappers also offer premium service plays. These are simply paid picks from our expert cappers. Bettors can get the best analysis and best picks from the best in the business right here at Sports Hub. You'll see how good our experts are as you read through the next section. Each day, I break down how our handicappers did the previous day. Yesterday, our guys put forth another stellar effort.
Miller Time Nails His Picks Again
If you read yesterday's report, you would know that Ben Miller was mentioned once again. His name keeps popping up almost daily here at Sports Hub. On Sunday, Ben went 3-0 with his picks. Yesterday, he did it again. Another unbeaten day to top my leaderboard.
There were a number of unbeatens yesterday. Even on a slow sports day, we had eight cappers put in at least two picks and not lose. The best part is that many of the guys at the top are Sports Hub exclusive handicappers. As I've been saying since we started, our guys are good. That's why you'll want their picks.
Let's check out yesterday's board.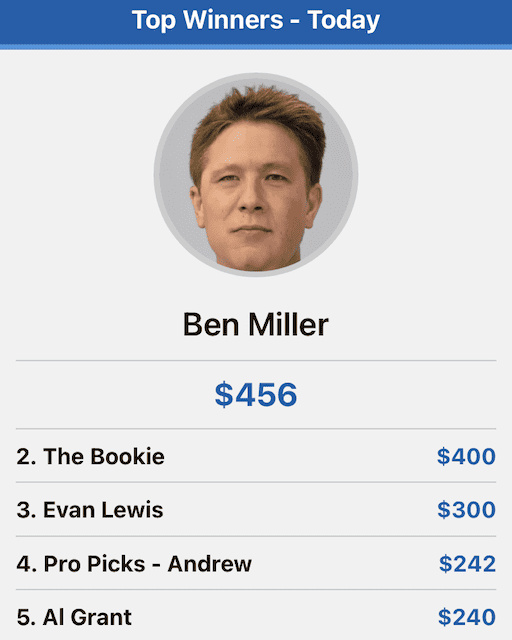 Big Ben: As mentioned, Ben Miller topped the board yesterday. He hit all four of his picks to take home $456. All four were MLB picks. That makes Ben 15-3 since August 10. He's on most every leaderboard. He's third on the 7-day leaderboard ($1189) and first on the 14-day ($1831) and 30-day ($2088) boards.
The Bookie: With over 20 years of bookmaking experience, The Bookie is a Sports Hub expert who hit all three of his MLB picks last night. His winnings totaled $400. The Bookie is 6-1 over the last two days.
Evan Lewis: Evan is another Sports Hub expert who went unbeaten yesterday. He won all three of his MLB picks and pocketed $300 in the process. He's a top-25 capper in NBA, NHL, and soccer. Keep him on your radar.
Five more: There were five cappers that put in at least two picks and won both. Pro Picks – Andrew, Al Grant, Jhon Walsh, Sports Investors, and Gino Russo all went 2-0 yesterday. Andrew was the big winner with $242 in winnings. Al won $240. Jhon won $230 and the other two won $200 each.
Football Is Starting to Heat Up
We're getting closer to football season. With that comes more trending news in both the NFL and college football. It also means it's time to start thinking about which Sports Hub handicappers you'll be using for your football picks during the season.
Keep an eye on all the latest trends this fall by being a loyal reader of my daily report. I'll keep you up to date on the latest news not only in football, but also in other sports. Information is the key to successful betting. You can access information that the average bettor can't get right here at Sports Hub. Keep coming back. It will be worth it.
Here is what is trending in sports currently.
The Blind Side: Remember the movie about former NFL OT MIchael Oher starring Sandra Bullock? Yeah, well Oher just petitioned a court stating that Sean and Leigh Anne Tuohy never adopted him. Instead, Oher claims the Tuohys had him sign over conservatorship which allowed the family to benefit from Oher's NFL success.
Former NFL player Michael Oher, subject of "The Blind Side," petitioned a court Monday with allegations that Sean and Leigh Anne Tuohy never adopted him, instead tricking him into a signing a document making them his conservators and enriching themselves. https://t.co/x5EsGu3IVc

— ESPN (@espn) August 14, 2023
RBs on the move: Ezekiel Elliott will join the New England Patriots on a one-year contract. Former Vikings RB Dalvin Cook has also signed a one-year deal with the Jets. These moves will have an effect on NFL picks this preseason and regular season.
Franco on restricted list: I talked yesterday about Rays young star Wander Franco. Whatever is going on there, MLB has placed Franco on the restricted list while they continue their investigation.
AP Preseason CFB Top 25: The poll was released yesterday and there are no surprises at the top. Two-time defending national champion Georgia is No. 1. The Bulldogs are one of three SEC teams in the top-5. Alabama checks in at No. 4 and LSU is No. 5. The Big Ten – Michigan and Ohio State – occupied the No. 2 and 3 spots. Sports Hub will have all the best college football picks this season.
Dodgers: The Dodgers are trending having won 8 in a row and 12 of the last 13. Julio Urias won his 10th game last night and is beginning to peak at the right time. Clayton Kershaw (10-4) is back in the rotation too.
It's Baseball and Soccer Today
It's a Tuesday in August and it's not the end of August yet. That means there isn't any college football yet, but when there is you can get all of the best picks in the industry right here at Sports Hub. Today, well, there's baseball, more baseball, and soccer. Lots of it.
Here's what's on today's sports schedule.
A full day: All 30 MLB teams are back in action today. The Yankees-Braves game is the highlight, if you can call it that. The Braves laid the smack down on New York last night, 11-3. The Yankees have now lost three in a row. See our full list of MLB picks in the Sports Hub member's area.
Women's World Cup: The first World Cup semifinal kicks off early this morning. It's actually over with Spain defeating Sweden 2-1. It will be the first World Cup final for Spain. Co-host Australia will play England tomorrow to determine the other finalist. Keep an eye on the member's area for picks for tomorrow's match.
KBO: If you were unaware, the KBO is the highest level of baseball in South Korea. Its season runs about the same time as MLB does here. There are former MLB players playing in the league and a few Korean players have made it to MLB. You can also bet on games there. We actually have a handful of KBO picks in the system. The one thing you do have to watch is the time difference. It's 12 hours ahead in Seoul.
Leagues Cup: The semifinals are tonight. Philadelphia plays Inter Miami CF and we'll see if Lionel Messi continues to work his magic. The other semifinal features Monterrey against Nashville SC.
Other soccer: The schedule is full of international soccer. There is UEFA Champions League Qualifying today. It's a beautiful day for soccer in England. The England League One and England League Two are in action today as is the English National League.
WNBA: After a day off, the top two teams in the league play tonight. New York is at Las Vegas. The Liberty beat Vegas by 38 points on Aug. 6.
That's it. Check back tomorrow to see how our cappers did with their picks and for an update on the latest sports news and schedule. Until then!