I was talking to my cousin Computer Picks about Sports Hub's pick center. I told him it's the CNS (central nervous system) of my software. The pick center functions as the eyes, ears, nose, and mouth for all of our users.
It was then that Computer Picks realized that it's where he – and all of our great handicappers – can be found.
Using the Pick Center
If you have been using Sports Hub, hopefully you have had a great experience. If there is something you think we can improve, don't be afraid to hit CONTACT US and send us a message.

One of my great features is my leaderboard. You can find it in the pick center. When you open the Sports Hub main page, you'll find the pick center near the top left. Hover over it and you'll access a drop-down menu where the top choice is my leaderboard.
As you know, each day I spend time looking at how our handicappers performed the previous day. We'll get to that in a minute.
We've Got Your Picks at the Pick Center
In the pick center, you will find a direct link to our free picks and to my cousin, computer picks. If you hover over pick center, you will see that free picks are the second choice on the list. Click and you'll be taken to the free picks page. There are a few free MLB picks in the system already for today.
You can also choose computer picks from the drop-down menu. Our computer-generated picks are done using an intricate artificial intelligence algorithm that only releases a pick when there is at least a two-point difference between the computer line and the actual betting line.
Now, my goal as well as the goal of Sports Hub is to provide you with an outstanding user experience in addition to the best picks in the industry. Our next version will have even more options with a goal of enhancing an already great user experience.
Keep in mind that we have rolled out Sports Hub to the international betting community for free. However, it won't be free forever. At some point, our service plays, aka premium picks, will not be free, but they will still keep our users on the right side of the action! As well, our consensus page provides even more info.
Speaking of Winners
When you decide to make the move – a great move, I might add – to Sports Hub and become a member, you unlock access to the best sports handicappers in the world. I know. I see them every day.
Every day, I recap how the best (and sometimes the worst) of our cappers performed the previous day. Yesterday, for example, a few of our Sports Hub exclusive cappers led the charge.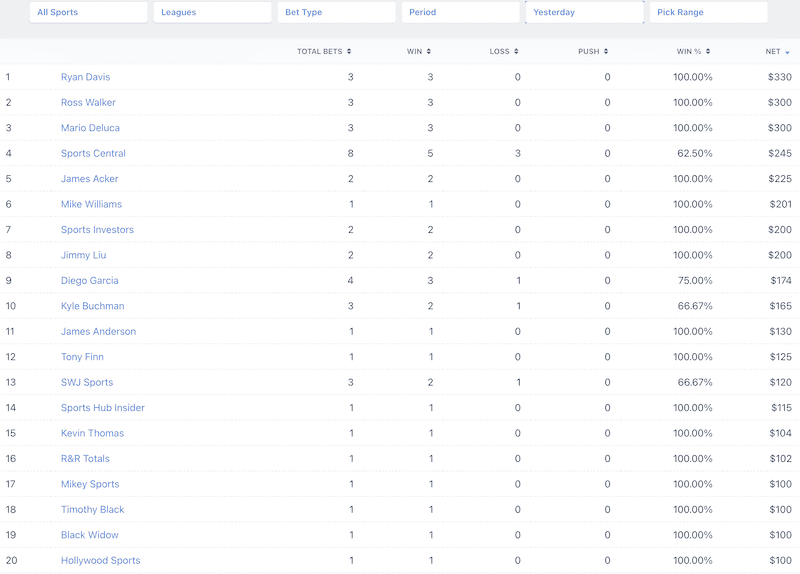 One guy in particular, Ross Walker, has been busy carving his name into my leaderboard in multiple spots.
Here's a look at the top performances yesterday.
Ryan Davis: It was three up and three down for Ryan with a 3-0 MLB day. He's a Sports Hub expert who earned $330 yesterday to put him up $650 for the last 30 days.
He's back: Mario Deluca is another Sports Hub guy who's been here before. He also went 3-0, all baseball picks, and earned $300. It's been a good month for Mario who is up $1098 over the last 30 days. Go to the pick center right now. Find Mario on the leaderboard, and you'll see that he has an MLB pick in the system for today. He's hit 5 of his last 7 picks!
Big Boss Ross: As mentioned, Ross is all over the leaderboard right now. If you look at the top of the leaderboard page, you'll see the top-3 in a number of different categories. Ross appears in 6 of the 8. Yesterday, he was 3-0, winning $300. He's up over $1000 for the week, $1746 for the month and if you want to roll with him today, he's got two more MLB picks up for today.
What's Up in Sports
You have to stay tuned into what's happening in the sports world. That's what our Sports Hub handicappers do.
When you go to the pick center and look up my leaderboard, the guys that are consistent are the guys who keep their finger on the pulse of the sports world. That's one of the reasons why you should come back every day and read me.
Anyway, here's what's trending today.
World Cup soccer: It's back with the FIFA women's tournament, which is being hosted by Australia and New Zealand. The month-long tournament will conclude on Aug. 20 with the final at Olympic Stadium in Sydney.
The Cards: Remember the St. Louis Cardinals? They were essentially written off in the first half of the MLB season, but they have won five straight and eight of their last ten games. The Cards are still ten games out of first place, but anything can happen.
Hall of Fame: The nine-member class of the 2023 Pro Football Hall of Fame induction class will be enshrined on Saturday, August 5. The class includes NFL greats like CB Darrelle Revis and LB Zach Thomas. Festivities start next week.
X Games 2023: If you're a fan of different and exciting stuff we call sports, the X Games starts tomorrow.
It's a Big Summer Sports Day
There are actually some choices for sports fans today. That's something you usually don't get on a random Thursday in July.
Here's a look at today's sports schedule, you're bound to see some action in our pick center from some of these events.
The Open: The final major of the golf season is finally upon us. Rory McIlroy, who won the event in 2014, is the favorite at +700. Scottie Sheffler has seven straight top-5 finishes. He's next on the board at +750.
Women's World Cup: It's actually already underway since it's taking place on the other side of the globe. Host countries Australia and New Zealand are both in action and Nigeria plays Canada.
Light day in MLB: It's Thursday, which means some MLB teams are off. There are 10 games total, seven of which will be played in the afternoon.
Football up north: The CFL's Week 7 gets underway tonight as Winnipeg (4-2) hosts the league's worst team, Edmonton (0-6).
WNBA: There are four games on the schedule today. Atlanta and Connecticut start it off with an early 11:30 a.m. ET tip off. The day concludes with the league-leading Las Vegas Aces (19-2) playing at last-place Seattle (4-16).
It's a pretty full schedule for a summer day in July. Enjoy today's sports. If you're looking to bet, head on over to the pick center to see if our handicappers can be of service.