The consensus is that Sports Hub is redefining the handicapper industry. It's true. We're bringing bettors and handicappers together in a community where transparency is king. So is winning.
Become Part of the Fastest Growing Betting Community
Yesterday was no different as we welcomed a couple new guys to the top of the Sports Hub leaderboard. Today, we take a look at our consensus picks and how looking at handle numbers and money splits can benefit all bettors.
I'm always full of information here and my job is to continue providing you quality data you can use to have success in sports betting. Hopefully, you were on the right side of things yesterday.
Sports Hub Consensus Picks
Each day, our handicappers put hundreds of picks into the system. One of the cool features offered to our members is our consensus page. If you were with us yesterday, you might remember we gave you a tip of the day about how to find free picks at Sports Hub. Today, it's a new tip.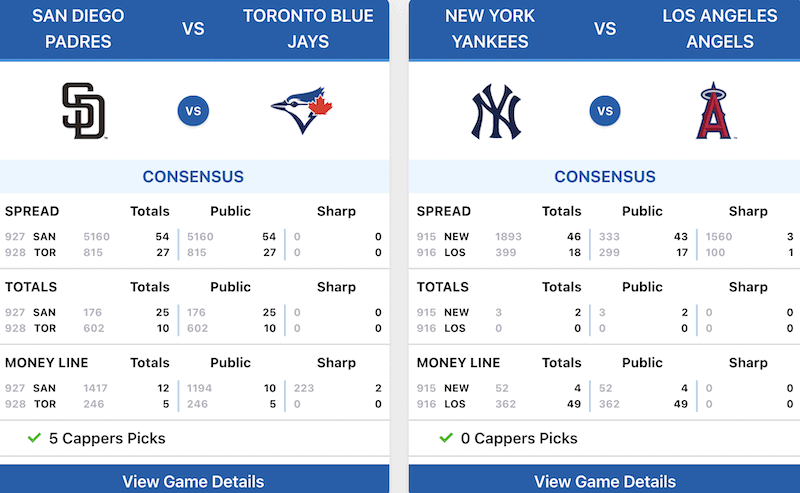 As a matter of fact, we'll be bringing you insight and information on how to best use our service to get the most out of it all week. We know new things don't always come easy to some people. But we are here to help you every step of the way.
Let's say you have an MLB game in mind you want to bet. Now you need to see which side the public is on, and how much money is on each side. Go to our consensus page and you will find the answer.
From the Sports Hub member dashboard, find CONSENSUS on the left hand side. Click it and you will see games listed with the total picks given. Don't forget, you need to be signed in as a member to access this feature. Registering is free and easy – just click here.
All of the data given comes directly from offshore sportsbooks. This information is accurate, unfiltered, and is given in real time. Analyzing this data, as well as betting money splits, can help bettors identify sharp betting trends. If you're smart enough, you can use this data to track all sorts of important data.
Using the Consensus Page
To use the consensus page feature, you do have to be a member of Sports Hub. Becoming a member is pretty easy.
There is a bright orange button at the top of this page. It says JOIN NOW. Click on that and follow the prompts. You'll need to put in an email address and verify that you are signing up for an account.
Once verified, you will be a member of Sports Hub. It's free and your membership opens up a world of possibilities. You'll have access to premium sports betting content. More importantly, you'll have access to all of our handicappers.
That's huge, as you'll see in a minute. Sports Hub handicappers are some of the world's best and winning is their thing. You can use all of the features on your member's page, including looking at our leaderboard, read about our handicappers, find scores and odds and of course, access to the consensus page. Each individual game will also show how many picks our cappers have in the system. One click brings you every pick.
Big Day for Sports Central
Speaking of looking at the leaderboard, let's check out yesterday's action. I had a new guy at the top with an outstanding day of picking MLB games.
There are many ways to look at the leaderboard too. In my daily report, I like to look at how cappers did yesterday. You can also see how handicappers are doing over the last 7 days, 14 days, and 30 days.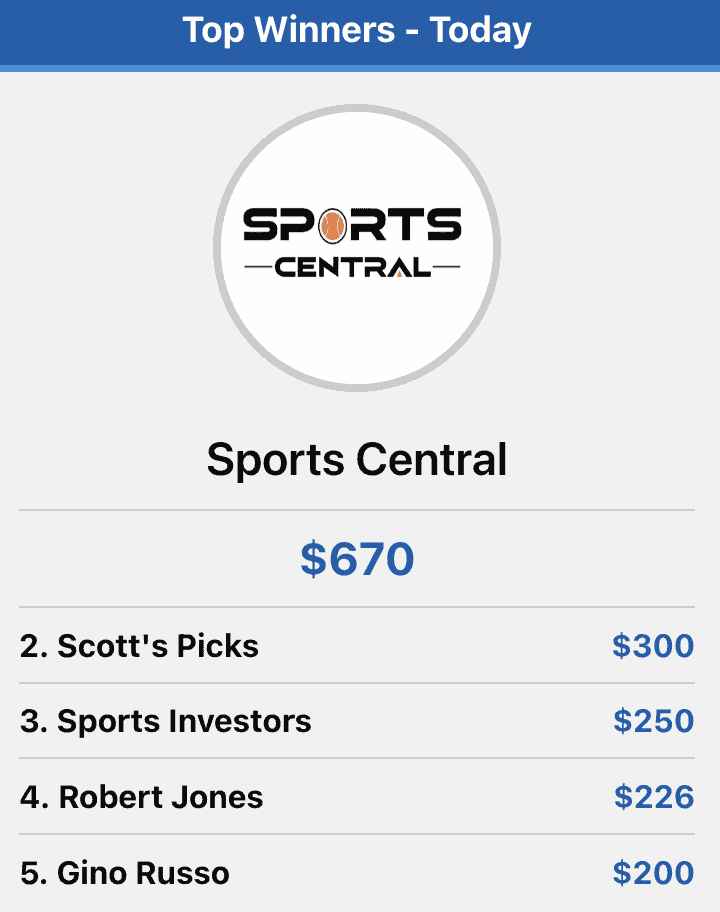 There are also leaderboards for each sport. For example, over the last 7 days, Geovanny Araya is absolutely crushing it in soccer. He has profited $1013 with his soccer picks over the last week.
Let's see who crushed it yesterday.
Sports Central: As mentioned, Sports Central was on his MLB game yesterday. SC went 7-1 and crushed everyone with winnings of $670. Sports Central has had a solid week ($780) and is up $1551 over the last 30 days. The consensus on the street is that SC is a pretty strong capper.
Scott's Picks: Scott is another handicapper who is an established MLB guy. He ranks No. 37 in MLB among all of our cappers. Yesterday, he went a perfect 3-0 to earn $300. That puts him up $393 over the last three days. He's 7-3 in the last three days.
Sports Investors: As the name suggests, Sports Investors take a unique approach to sports betting. They look at each bet as an investment. Yesterday, their investments paid off. Sports Investors went 2-0 and earned $250. By the looks of if, the investments have been paying off. Over the last 30 days, the Sports Investors are up $878.
Free Picks: One of the perks of a Sports Hub membership is access to picks…picks like Sports Hub Free Picks. Yesterday, our free picks went 4-1.
Another Slow Day
It's mid-July and the overall consensus is that there just isn't much on today's sports schedule. Sorry, am I using consensus too much? Miss Google really has a way with words. Speaking about women, the Women's World Cup starts tomorrow as does The Open.
Today, it's pretty much a baseball day sprinkled with some hoops.
Full Slate: All 30 MLB teams are in action today. The San Francisco Giants have the longest current winning streak at seven games. They'll go for No. 8 in Cincinnati tonight. The Braves had been on a roll, but have now lost three straight. Atlanta is at home against Arizona tonight.
Basketball: Two games are on the schedule in the WNBA. Dallas travels to New York in a game featuring two teams in the league's top six. Indiana travels to fifth-place Washington. If you're betting this one, get your picks in quickly. Tip-off is at 11:30 a.m. ET.
All-Star soccer: The MLS All-Star game is tonight at Audi Field in Washington, D.C. The MLS All-Stars will face Arsenal. Each of the past eight MLS All-Star games have had three or fewer goals scored. Just sayin'.
A nap: Yesterday, we mentioned some tennis tournaments going on right now. Other than some international soccer, that's about it for today's sports schedule. A well-deserved nap might be on your schedule.
Keeping an Eye on Sports
If you want to be a successful bettor, you have to stay in touch with what's going on in the sports world.
It was a wild night in baseball last night. One of the world's biggest soccer tournaments starts tomorrow. So does one of golf's biggest tournaments.
Here's what's trending in sports.
Runs, runs & more runs: Something was in the air yesterday at MLB stadiums. There were three games that ended up with a score of 11-10 yesterday. That's 21 runs…in a single game! Then, you had the Braves and Diamondbacks playing to an NFL-like 16-13 final. The Dodgers, Guardians, and Twins each scored 10 runs in their wins and the Padres just missed double digits in a 9-1 win over Toronto. Does today's consensus shows even more runs?
Losers: Every single team in the AL East lost yesterday. The Rays, who lead the division, have lost three straight.
Winners: Sports Central wasn't the only big winner last night. So was the NL West. All five teams in the division won last night led by the Giants. As mentioned, San Francisco has won seven straight. Yesterday, they picked up two wins. They completed a game that was suspended on Tuesday and then won yesterday's scheduled game. It was one of those wild 11-10 finishes.
The Open: The final golf major of the season starts tomorrow. The event will take place at Royal Liverpool Golf Club. Rory McIlroy and Scottie Sheffler are the early favorites to win.
World Cup: The women's World Cup begins tomorrow. New Zealand and Australia are hosting the event. Team USA has won the last two World Cups. The Americans will play their first match on Friday against Vietnam.
That's it for today. Hopefully, you learned something about our consensus picks and can put that feature to work for you.
Come back tomorrow to see how our cappers did. The picks are starting to flow into the system as I speak!