A few Sports Hub premium service plays could be the difference between a positive and a negative day. When you stack several positive days together, you end up like some of our Sports Hub expert handicappers. Ben Miller is one of our experts and he's up $2613 over the past 30 days. That's the result of some hard work and having numerous winning days over the last month.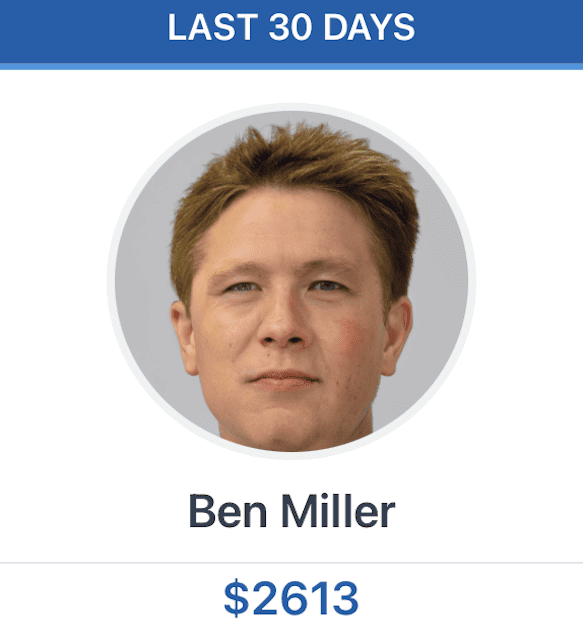 From a bettor's perspective, those are the types of guys you want to follow for premium service plays. It's why Sports Hub was created. We offer a unique community that includes the bettors and the handicappers, which just happen to be the best in the industry. No longer do you have to search the internet for quality, trustworthy handicappers. That's all you will find here at SportsHub. They provide winning capper picks on a consistent basis and all you need to hop on their bandwagon is a free Sports Hub account.
Access to Sports Hub Premium Service Plays
I have discussed premium service plays here before, but I'm sure there are some new readers that still may not understand the idea of a service play. It's really simple actually. Premium service plays is the big, fancy word for paid handicapper picks. When you want to sound smarter than you really are, you throw out terms like "premium service plays" to impress those around. All you are talking about is picks that you can buy from a professional handicapper.
And, guess who just happens to have tons of quality, winning premium service plays? Yep. Our guys here at Sports Hub. Hundreds of the best sports handicappers in the industry are part of our community. They offer free picks as well as paid picks for all Sports Hub members every day of the sports year. Members can find picks in all sports and they can find multiple bet types i.e., team totals, player props, and others.
It's very easy to sign up for a Sports Hub account. Remember, it's free. Just click the JOIN NOW button at the top of this page. You'll enter your information and then be asked to verify your email. Once verified, you are a full-fledged, card-holding (there's no card, by the way) Sports Hub member. Members have access to daily free picks, computer picks, premium service plays, and inside information provided by industry experts.
SportsHub Cappers Rule Leaderboard Again
It should just be automatic. Another sports day down, another leaderboard topped by the best in the business from Sports Hub. I can hear it now. "Who are all these cappers at Sports Hub?" As Tina Turner would say, they're simply best … better than all the rest. That's why any sports bettor in their right mind should be headed to Sports Hub to sign up for a free account. That free membership allows access to free picks and premium service plays from our expert handicappers. Handicappers like the ones we'll take a look at in a minute.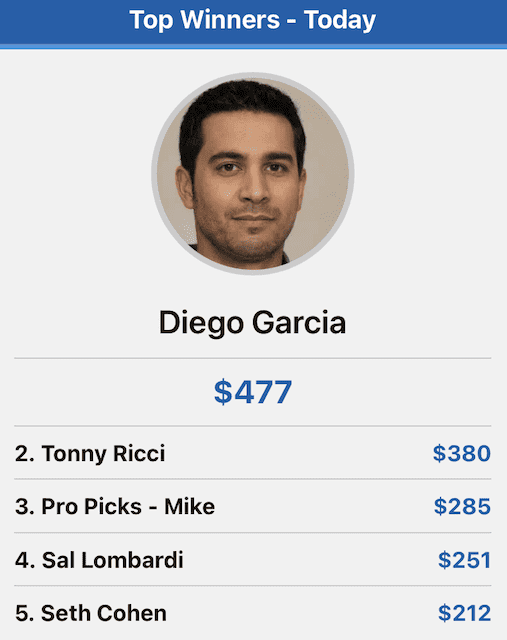 Here are the Sports Hub experts who topped the board yesterday.
Heckuva week: If you had been tailing Sports Hub expert Diego Garcia, you would have had the same week he's having – 14 wins, just 3 losses and $1172 in winnings! He went 4-0 yesterday, hitting two moneyline MLB underdogs and won $477. Diego has a documented history of handicapping success as evidenced by his current run and his standing as the No. 5 MLB handicapper here at Sports Hub. You won't winning premium service plays? Diego serves them up here at SportsHub.
Even better: There are many guys better than Diego when it comes to MLB free picks and premium service plays. One of the few that can top Diego is Tonny Ricci. Big Tonny was second on the board yesterday with a perfect 3-0 card. He also nailed two MLB moneyline underdogs and won $380! That puts Tonny up $1073 over the last 30 days.
Solid performer: Pro Picks – Mike has been consistently among the leaders on my board recently. Yesterday was another strong performance. Mike hit both of his MLB picks to win $285. He's up $574 for the week and is among our top-15 cappers in MLB, NHL, and NBA. Keep an eye on him later in the year.
Rounding out the top-5: Yes, you guessed it. Two more Sports Hub cappers rounded out my top-5 yesterday. Sal Lombardi, no relation to Vince, and Seth Cohen combined to win 69 percent of their bets and win over $400. Sal went 6-3, all MLB picks, and won $251. Seth went 3-1 on his MLB picks and won $212, which gives him winnings of $776 for the week. Seth is our No. 18 MLB capper. Sal is actually Sports Hub's top NHL capper. Premium service plays from these guys can put you over the top!
Flying High and Fighting Back – What's Trending
Another stellar performance by a WNBA superstar is among the trending sports news for today. College football, which starts this weekend, is all over the news. Week 0, which features just seven games, kicks off this Saturday. You can check out our NCAA football picks Week 0 page here at Sports Hub to get you prepared.
Let's take a look at what's trending right now.
Trout is back: The Angels star returned to the lineup after missing 38 games due to a broken bone in his left hand. In his first game back against the Reds, Trout played center field and went 1-for-4 from his usual No. 2 spot in the batting order. The Angels went 16-22 in Trout's absence and are barely clinging to life in the AL playoff race.
Air Raid in the Big Ten: Before Mike Leach passed away, he talked with Wisconsin offensive coordinator Phil Longo. Leach was happy that his Air Raid offense would finally be used in the Big Ten. For years, Wisconsin has been a two-back, run-heavy offense. Not in 2023. And, Purdue, the Cradle of Quarterbacks, will use the Air Raid as well. No more 3 yards and a cloud of dust. Keep that in mind as you search for college football premium service plays this season.
Ace in the hole: Las Vegas Aces C A'ja Wilson was on one last night. She put together one of the best performances of the season with 53 points in a 112-100 Aces win. The performance tied the WNBA record for most points in a single game. Wilson hit 16-of-23 shots from the floor and 20-of-21 free throws.
Bush fights back: Former USC RB Reggie Bush is suing the NCAA. Bush, who had his 2005 Heisman Trophy taken away after it was found he and his family received illegal benefits, is filing a defamation lawsuit against the NCAA. Bush is looking to have his Heisman Trophy reinstated. Current USC QB Caleb Williams is the reigning Heisman winner and the favorite to win it again. There will certainly be plenty of premium service plays involving USC this NCAAF season.
Starting transfer QBs: Arizona State, Oregon State, and Georgia Tech all announced their starting quarterbacks. All three college football programs will have a transfer as their starter. Jayden Rashada, whose NIL deal exploded at Florida, will start for the Sun Devils. Former Clemson starter DJ Uiagalelei won the job for the Beavers and former Texas A&M QB Haynes King will start for the Yellow Jackets.
Lots of Premium Service Plays for Today's Sports Schedule
As we edge closer to the weekend, today's sports schedule presents fans with plenty to see and bettors with lots of opportunities. Sports Hub has numerous daily free picks and premium service plays to help you navigate today's schedule.
Let's take a look at what's on tap today.
It's Lefty Day: Actually, it was 10 days ago. Yep, International Left-Handers Day was on August 13. In MLB, Lefty Day is today. A number of the best left-handed pitchers in baseball take the hill Wednesday. Last year's NL Cy Young winner, Sandy Alcantara hasn't had a great season, but he's up for Miami against San Diego. Three-time Cy Young winner Clayton Kershaw takes the mound for the Dodgers against Cleveland. Mackenzie Gore, Jose Quintana, Andrew Abbott, and Chris Sale are all up today. Check the member's area for premium service plays involving these guys.
Four years ago today rookies Bo Bichette and Vladimir Guerrero Jr. faced off against Clayton Kershaw for the first time.

Their reactions to his legendary curveball will never get old. 😂👏 pic.twitter.com/nbKDn3Lwm3

— Cut4 (@Cut4) August 20, 2023
Postseason on the line: There's only one game on the WNBA schedule. Phoenix travels to Los Angeles to take on the Sparks. LA is currently 8th in the league standings and clinging to the last playoff spot. The Sparks are a game and a half ahead of Chicago right now and can't afford to let the Sky gain any ground.
MLS is back: LAFC plays the Colorado Rapids in an MLS match tonight. It's been a while since MLS teams took part in the Leagues Cup. A full slate of MLS games is on tap for Saturday. We've got your soccer picks from some of the top handicappers in the world. You can find premium service plays for soccer too here at SportsHub.
Punching tickets: Northwest and Southwest punched their tickets to the final four of the US bracket at the Little League World Series. The Caribbean and Asia-Pacific are also in the final four on the International side of the bracket. Four more games take place today after which we will have the final four teams remaining in each bracket.
U.S. Open: More qualifying round play continues today in the final Grand Slam event of the tennis season. Matches start at 11 a.m. ET and run all day with the last matches of the day starting at 4:10 p.m. ET. The men's final is set for Sept. 11.
That's all for today. It's actually not a bad schedule for a Wednesday in August. Sports Hub is here with the best free picks, premium service plays, and computer picks to help you rule the day. After a day filled with wins, come back tomorrow for a recap of our cappers' performances, more trending news, and a look at the schedule as we head into the weekend.