Sports Hub is your new home for college football picks. Yesterday, I told you that we will be your home for NFL picks too. Sports Hub is the place to be this football season if you plan on being on the right side of the action. It's that simple.
Each week, Sports Hub will bring you a dedicated page for all of the week's action. Anyone, member or not, can visit Sports Hub and load up on everything related to that week's college football schedule. For example, you'll see the college football picks Week 1 page very soon. The page will contain the top storylines that week as well as key matchups, top trends, injury reports, and more.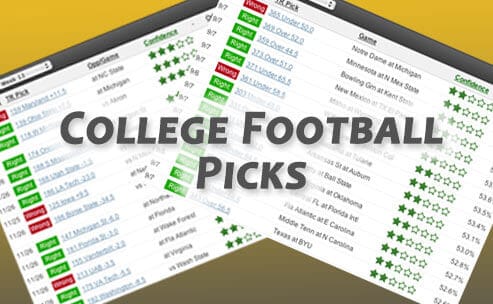 We will also offer up a few of our best college football picks for the week. Bettors will find the best moneyline pick, the best totals pick, and others. It is truly a one-stop destination for the college football bettor. Our users get the absolute best inside information in the industry from our Sports Hub experts who have decades of experience in the sports betting industry.
Find Our College Football Picks
Aside from our college football picks weekly page, another part of the Sports Hub user experience is the interaction with our expert handicappers. Our members – it's free to join – are able to access a wide variety of picks and other information. It all starts on the Sports Hub home page.
Users will find the Pick Center near the top left of the home page. I've mentioned this before with our NFL picks as well as others. When you hover over the Pick Center, a drop-down menu is revealed. This is where you can access all of our picks, handicapper picks and computer picks. Scroll down to Football Picks and you are taken to the picks page. You'll find both NFL and college football picks here.
In order to access our picks, you do need a Sports Hub membership. There is a JOIN NOW button at the top of the page. Click it to get started. It's a pretty easy process and it doesn't cost you anything but a few minutes of your time. It will be a great investment for this coming football season.
New Guy Rules the Leaderboard
There's a first time for everything. Pretty soon it will be time for college football picks here at Sports Hub, but right now it's time to introduce the new guy. That's right. Nick Sabatini, a Sports Hub expert, is new to the mix and put his first 14 picks into the system yesterday. He did okay for a first timer.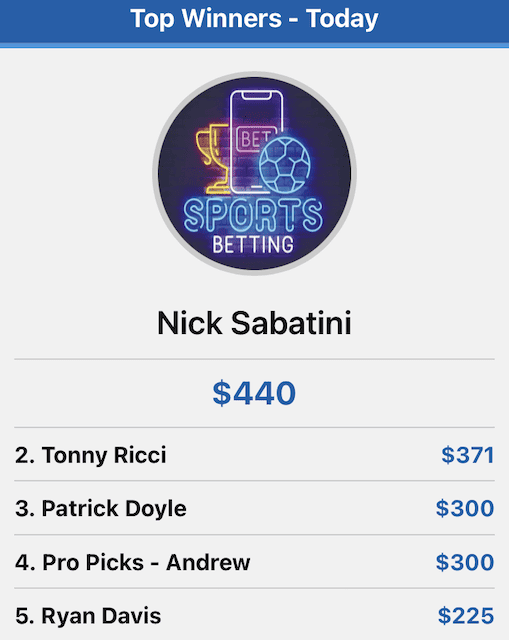 Another five of our cappers put in at least two picks and went unbeaten. That group was led by a handful of Sports Hub exclusive handicappers. I love that our Sports Hub guys are repeatedly at the top of my board. You should like it too. It will put more money in your pockets.
Here's a look at yesterday's leaderboard.
The new guy: As mentioned, Nick Sabatini put his first 14 picks into the system and he went a blistering 10-4. He hit both of his soccer picks and 8 of 12 MLB picks to win $440. Nick has NFL picks for tonight already in the system and he'll surely have college football picks once the season starts.
MLB #1: Tonny Ricci is our No. 1 MLB capper for a reason. Yesterday, he went 3-0 and took home $371. That puts him up $758 for the week. Tonny has hit 6 of his last 8 MLB picks and he already has a baseball pick in for today's games.
3-0: Patrick Doyle has been ripping it up the last three days. He went 3-0 yesterday to add $300 to his three-day total of $570. You'll want to check Patrick out this fall. He already has college football picks for Week 0 in the system. Along with him, Pro Picks – Andrew also went 3-0 and won $300 yesterday.
2-0: Ryan Davis and Mike Kelly are part of the Sports Hub expert team and both went 2-0 yesterday. Ryan hit the Mariners at plus-money to win $225. Mike had the Marlins at +110 and won $210. Mike is now up $1665 for the last 30 days. Talk about consistency!
The Thursday Sports Schedule
Thursday is the bridge to the weekend. In the summer sports schedule, it's like an appetizer for all the weekend sports action about to come. Today's schedule is no different. After a bit of lull yesterday, the CFL is back with Week 10 of its season starting tonight.
The WNBA had a day off yesterday and is back with three games on the schedule. There is golf, tennis, and more making this Thursday the perfect segue to a weekend full of sports action. And, it won't be long before we're talking about college football picks and NFL picks every weekend.
Here's what's happening this Thursday in the sports world.
Light day: Thursday is the typical light day on the MLB schedule. Sixteen teams will play while the other 14 are off in preparation for their weekend series. Washington faces Philadelphia again tonight. Can Aaron Nola repeat what Lorenzen did last night? There are already four picks available for this game. Check out the members area.
WNBA: After no games yesterday, there are three today. The highlight will be Diana Taurasi and Phoenix hosting third-place Connecticut. The Mercury, who have just eight wins, have beaten the Sun once at home already this season.
The streak: Tonight in the CFL, Winnipeg (6-2) travels to Edmonton, the home of the Elks. It's also the home of 21 straight losses. The Elks have the record for most consecutive home losses in any of North America's professional sports leagues.
Finally!: Speaking of football, the first full week of the NFL preseason begins tonight. There are two games. Houston is at New England and Minnesota travels to Seattle. There are a number of NFL picks in the system for these games. We'll have college football picks coming soon with the season kicking off in 16 days.
World Cup: Spain and the Netherlands will meet in the women's World cup quarter finals tonight in New Zealand. The winner advances to the semifinals.
Golf: The FedEx St. Jude Championship begins today at TPC Southwind in Memphis, Tennessee. This is the first leg of the FedEx Cup playoffs. Scottie Sheffler is the +600 favorite to win. The LPGA is also in action as the AIG Women's Open begins today in Surrey, England.
Tennis: The Omnium National Bank presented by Roger event continues in Toronto, Canada. There is both men's and women's action today.
College Football Picks & More Trending
It's always important to stay up on what is trending in sports. Football season is looming in the near future and the NFL and college football are among items that are trending. Very soon, you will be able to access college football picks and NFL picks for the 2023 season. Sports Hub will be your go-to resource to keep you in the game this year.
Here's what is catching the eyes of sports fans and bettors right now.
No-no: Michael Lorenzen was traded at the deadline from Detroit to Philadelphia. The Phillies are definitely happy with their new pitcher. Lorenzen tossed a no-hitter last night against Washington. It was his second victory since joining the Phillies. He struck out five and walked four batters, throwing 124 total pitches. That's the most in a solo no-hitter since Mike Fiers threw 131 in 2019.
Panthers: The New York Jets and Green Bay Packers held joint practices this week ahead of their Week 1 preseason game set for Saturday, August 11. First overall draft pick Bryce Young went up against future Hall of Famer Aaron Rodgers. What a sight!
Pac-12: The Pac-12 is dead. Only four teams remain and two of those, Cal and Stanford, are looking at moving to the ACC. It still hasn't happened yet. SMU is another possibility for the ACC, though nothing has come of that either. Week 0 of the college football season starts in 16 days. Don't forget, Sports Hub is your home for college football picks.
Kane: A number of high-profile soccer players are on the move. One of those is Harry Kane. Tottenham has accepted a $110 million offer from Bayern Munich for the veteran striker. Kane has 213 Premier League goals and is on pace to break Alan Shearer's record of 260.
There you have it. Another daily report full of valuable information for the serious (or casual) sports bettor. Remember, Sports Hub is the source for all of your needs this football season. Whether it is college football picks, NFL picks, football news and analysis, or football betting tips, Sports Hub has it all!
If you haven't done so already, join Sports Hub to gain access to all of our handicappers and free picks, computer picks, college football picks, and more. Click the JOIN NOW button at the top of the page to get started. It takes just a few minutes and it's free! It will be the most valuable thing you do today. I guarantee it. Come back tomorrow for more!