As we near the end of August, the Road to the World Series begins. Baseball is a long haul, and only the strongest survive. Good'day to our loyal Sports Hub readers, can you believe we'll be watching football and the World Series soon!?!
This is the best time of year to be a sports fan … BY FAR! Next weekend we'll be finding our favorite spot on the couch to enjoy some college football, with the NFL less than a fortnight away. WE READY. However, baseball fans also know this is when the rubber hits the road.
If you're going to win the World Series, all pieces need to start gelling now. Teams that get this right will give baseball bettors tons of opportunities to boost your bankroll heading into prime wagering territory.
Find Teams Down the Stretch With Betting Value
We knew who the top contenders were heading into the 2023 MLB season. Some have followed suit, while others haven't had a sniff of the playoffs since May. Finding teams to tail or fade down the stretch can equal large profits.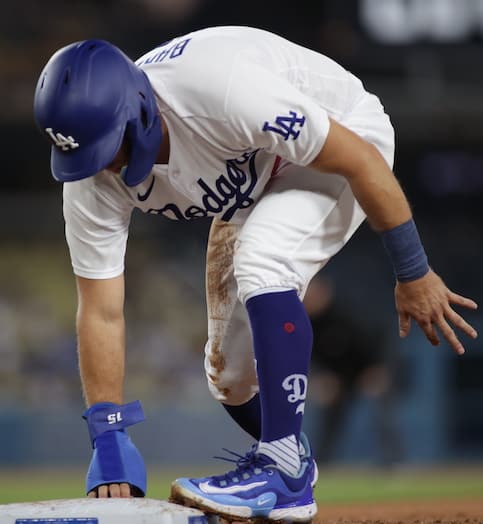 Do you remember when our SportsHub exclusive capper Joe Berra rode the Cardinals and their 17-game week streak in 2021? He hammered them nightly, and even faded them when they lost to break their streak.
For those that watch baseball, it's easy to see when teams are playing to win or playing to finish out the schedule. A team like the Washington Nationals are someone to watch. Nats manager Davey Martinez has that young squad playing some inspired baseball. They're playing like a squad that wants to finish the season strong, and could offer some huge underdog value.
Tailing World Series Runs
Teams that are serious about winning the 2023 World Series know that culture begins now. Sure, you'll see some stars taking a seat every now and again in Atlanta and LA, but finding your groove heading into September goes a long way in the playoffs.
Jumping on board for World Series runs is a proven winning strategy for sports bettors. Any team that has a chance at winning the World Series should have a win percentage around .700 between now and the end of October. Picking your spots and riding hot teams will net daily profits.
The Dodgers have won 11 in a row, with 5 of their last 6 being by 3 or more runs. The lone exception was their 1-0 win last night against Brewer Ace Corbin Burnes. LA's mix of veteran leadership with a few young guns could prove tough to beat.
World Series Winner Futures Odds
Betting on World Series futures is always fun, and can build your bankroll in the process. If you budget your money right, you can dip your nuggets in a few different sauces. Managing your betting bankroll by getting a few horses in the race will allow you to spread your bets over some favorites and underdogs.
You always want to get some teams with short odds in there, because they're favored for a reason. But hitting on a team with long odds that gets hot can prove very fruitful. Let's look at the top 10 World Series favorites and their odds.
Current 2023 World Series Odds (August 18th, 2023):
Braves +275
Dodgers +400
Astros +550
Rangers +650
Rays +750
Orioles +800
Phillies +1550
Blue Jays +1750
Twins +2000
Giants +2000
This is a tough board. Sportsbooks have it right, making it hard to find value. The Braves, Dodgers or Astros will most likely be champs. But someone like the Phillies could surprise again after last year's run to the World Series.
Maybe you have trouble identifying the right spots to wager on. No worries, our cappers and my system have you covered. Over the last 14 days, we have 29 handicappers that have hit 64% or higher on their MLB bets. 17 of those cappers have profited over $400. Now that's a nice 2 week return.
Let's dig a little deeper into our leaderboard. If you haven't checked it out yet, you need to sign up for a free Sports Hub account and start winning more bets today.
Yesterday's Leaderboard in Our Members Area
Well what do you know, Sports Hub's handicappers rule yesterday's leaderboard once again. Five of the top 6 are all exclusive cappers here. James Acker, Sal Lombardi, Joe Berra, Robert Jones and Gino De Luca have all been seen around these parts before. Have you been tailing these guys? Because if you're not, you're not doing it right.
There wasn't a loss to be found in the top 6 yesterday, with James, Sal and Scott's Picks (the lone non-Hubbie) going 3-0, while Joe, Robert and Gino going 2-0. If you run it back the last 7 days, you'll see Sal and Joe have been on fire, however Ben Miller leads the way over the past week going 20-7 for a 74 winning percentage, up almost $1400.
Let's look at some highlights from our leaderboard advanced analytics.
Exclusive Hub experts: Yes, it's worth mentioning again, our SportsHub.com handicappers are among the best in the business. The 5 in the top 6 went a combined 13-0 yesterday, up $1267.
Mr. Acker to you: James Acker was yesterday's big winner, going 3-0 with a profit of $360. Two of his wins were from the MLB slate, but he also hit on an NFL preseason total. He's dialing into football now, and is 3-1 in his last 4 NFL picks.
Winning over the long haul: What happened yesterday is nice, but sports betting is a marathon, not a sprint. Ben Miller tops the leaderboard when you search the last 7 days, 14 days, 30 days AND 60 days! Over the past two months, Ben is 129-100, boosting his bankroll by $3140.
MLB experts: Going back 3 months, the leaderboard shows more Sports Hub exclusive handicappers at the top. However, the last 60 days show nothing but our own in the top 5. They are a combined 487-375, up $10108! Follow them through the World Series to earn your own profits.

World Series of Handicappers: Our leaderboard not only tracks winners to ensure our users are getting the best picks in the industry. We also track because we are running contests for the top handicappers. Stay tuned for more.
What's Trending in the Sports World?
It was system overload today when I searched for trending sports news and what's coming up on the schedule. Here's what I came up with:
The Dodgers: I led off yesterday with the Los Angeles Dodgers, so I may as well again today. Their winning streak is now up to 11-games with a 1-0 victory. Did you see Joe nailed both the Dodgers win and the under? We'll be watching the Dodgers road to the World Series very closely.
Harden my heart: The drama surrounding James Harden continues. After calling 76ers president Daryl Morey a "liar" on Monday at an Adidas media event in China, it looks like his time is done in the City of Brotherly Love. On Monday, Harden said. "Let me say that again: Daryl Morey is a liar, and I will never be a part of an organization that he's a part of."
St. Louis Cardinals: After putting 4 players on the IL over the past week, now it's time to see what their top prospect can do. After calling up Richie Palacios yesterday, today it's Masyn Winn's turn. Winn, a shortstop who also played some 2nd base in 2023, is the Red Birds top prospect. He gets his turn after hitting .288 with Triple-A Memphis, socking 18 homeruns with 61 RBIs. Winn added 17 stolen bases with a 44/83 walk/strikeout ratio. It'll be interesting to see how the Cardinals do between now and the playoffs to see who faces off in the World Series.
NFL training camp injuries: Anyone looking to place NFL futures should be looking at the numerous injuries in training camp. Super Bowl and playoff futures could be greatly affected this year by injuries. Stay tuned to SportsHub for the latest.
What to Watch on the Schedule – World Series Leadup
TGIF! Everyone here at Sports Hub gets giddy as the weekend approaches. Not just because they have been enjoying their summer weekend's, but because soon it'll be weekends full of football.
On top of that, European soccer is in full swing, with our UK correspondents having boots on ground to round out our exclusive coverage. Be sure to bookmark our main page to make sure you don't miss any of our fantastic analysis and sports picks. Now let's see what we can expect in the MLB with regards to trending teams towards the World Series.
Fridays always offer a strong sports schedule, let's see what is must see TV.
Day baseball kicks off the weekend: The Cubs are at home today, so you know what that means? Day baseball at Wrigley. The Royals @ Cubs kick off the MLB slate, while the Guards host the Tigers in a doubleheader. Nothing better than day baseball on a summer Friday afternoon. You can smell hotdogs and the World Series in the air.
UFC: Weigh Ins for UFC 292 have begun, and we have a stacked card tomorrow. There are two title fights featuring Aljamain Sterling vs. Sean O'Malley and Zhang Weili vs. Amanda Lemos. Scott of SWJ Sports will be releasing his plays this afternoon for the big card. Find his UFC 292 preview on the homepage today, but sign-up to Sports Hub to find out where the best value is for this fight card.
Premier League: This weekend's action kicks off in Nottingham today, with 5 matches on the table for Saturday. Our Premier League expert Ben gave his top Premier League Matchday 2 picks, go see who he likes.
PGA Playoffs: The BMW Championship continues today with golfers fighting to move on in the playoffs, as well as their share of the $20M purse. Chris Kirk has an early second round lead (-7), with Rickie, Rory, Brian Harman and Matt Fitzpatrick 2 strokes back. It should be noted that 23 players in the star-studded field are under par.
Edmonton Elks: The Elks of the CFL finally got their first win of the season, however it wasn't at home. If you didn't know, they now hold the record for the longest home-game losing streak (22 games) of any major league sports franchise. Last night, they beat the Tiger-Cats 24-10 on the strength of a 21-point first half. See Scott's CFL Week 11 picks to get in on the action.
Women's World Cup Final: The FIFA Women's World Cup Final is set for Sunday, but we'll have our Semi-Final and Final picks posted shortly. Spain will meet England in the Final, while Sweden and Australia will battle it out for 3rd.
We hope you got all that, because in all honesty, that's just the tip of the iceberg for what's going on this weekend in the world of sports. World Series contenders will continue to make their mark towards baseball's ultimate goal, while other World Series hopefuls just look for a strong finish.
Come back tomorrow as we analyze today's sports picks, pointing you in the right direction of winners. We may even scour our cappers brains to find some World Series futures picks tomorrow.