After a long Saturday of CFB, it's Week 2 of the NFL season which gives us another Sunday night football matchup. That means it's another opportunity for Sports Hub to lead you to victory. Each and every week of the NFL season, we are here bringing you top quality content and, of course, winning NFL handicapper picks. We'll see a little later on in today's report that our Sports Hub experts really tore it up yesterday with college football. You can expect the same performance today and with Sunday night football.
To get ready for the games this week, Sports Hub provides readers with the NFL Week 2 picks page. Here, readers will find just about everything they need to find success not only with all of the day games, but also with Sunday night football. Sports Hub experts break down the top matchups of the day and then provide you with a series of the best picks. You'll find the best ATS pick, best moneyline pick, and more. You can also be taken directly to our expert handicapper picks. Use this page to help you navigate your NFL betting today.
Betting Sunday Night Football
There's always a bigger feeling of excitement when betting on a prime time game like Sunday night football. Maybe it's the hype surrounding the game. Whatever it its, you can bet that Sports Hub is here to keep you updated and armed to make your game predictions. One of the biggest perks of being a SportsHub member is the access to all of our handicapper picks. We have guys who consistently win – think 60 percent winning percentage – and produce massive additions to their bankrolls.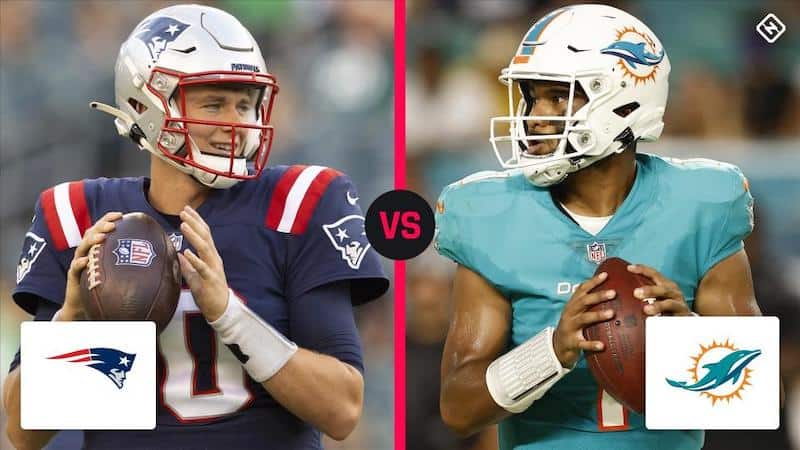 Here are a few things to keep in mind when betting on Sunday night football. Home teams win 55.1 percent of the time. Home favorites of 7 or more points are 11-7 SU in the last 18 Sunday night football matchups. Those same 7-point favorites are only 5-12-1 ATS. Interestingly, in those last 18 games, the Over is 13-5.
Everyone's a Winner at Sports Hub
If it's a college football Saturday, you can bet on Sports Hub handicappers to get you through the day with some wins. That's exactly what our guys did yesterday. Each of our top-5 won at least $290 and every single capper on my top-50 was a winner. Forty-seven of the fifty handicappers on the board won at least $100. Most of those winnings came from yesterday's full day of NCAA Football.
Here's what yesterday's leaderboard looked like.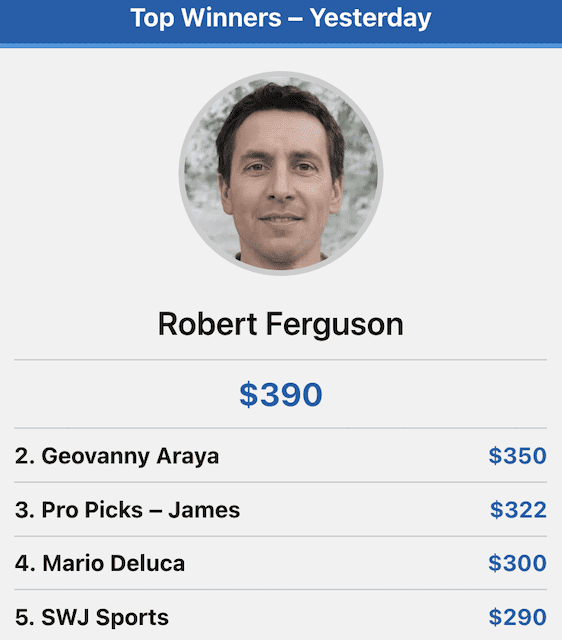 Crushing college football: If you were lucky enough to follow Robert Ferguson's picks yesterday, you'd be a happy camper today. This Sports Hub expert went 5-1 on his CFB picks and took home a cool $390. He's starting to catch fire and his now up $905 over the last 30 days.
SWJ Sports is back: Scott at SWJ Sports is one of our leading experts. He's our go-to MMA guy and, yes, he nailed a pick from last night's UFC action. He also crushed his CFB pick and nailed a couple CFL picks to earn $290 in winnings. If you're looking for Sunday night football picks, you might want to see if SWJ Sports has any available.
Our soccer guy: If you recall from yesterday, there was a massive amount of soccer on the schedule. Geovanny Araya is our leading soccer expert and he dialed in his picks yesterday. He went 2-1 with his three picks and won $350. That's a great day for another Sports Hub exclusive capper.
Sports Hub continues to rule: There were two more Sports Hub expert handicappers that went 3-0 yesterday. Mario Deluca and Robert Jones, two names you've surely heard before if you've been reading the daily report, both went 3-0, hit at least one NCAA football pick, and won $300. Again, a solid day from all of our handicappers, but especially those who are exclusive to Sports Hub.
Sunday Night Football on Today's Schedule
It's Sunday in September and that means it's a beautiful day for football. We'll start with the 1:00 p.m. games, get a nice dose of late games between 4:00 and 4:30 p.m., and then cap the day off with Sunday night football. It's an AFC clash that should prove interesting and will likely have an influence on which team wins the division at the end of the season.
Sunday night football isn't the only thing on the schedule today. There are quite a few other sporting events on tap. That means opportunity for our bettors. As usual, check the SportsHub members' area for all of today's handicapper picks.
Here's what's on today's schedule.
1:00 NFL games: There is a big AFC North matchup when Baltimore travels to Cincinnati. Bengals QB Joe Burrow had the worst game of his career in a 24-3 loss to the Browns last week. He'll try to recover today. Seattle and Detroit play in a rematch of last year's score-fest.
Late games: It's a divisional slugfest in San Francisco with the Niners and Rams. It was supposed to be Aaron Rodgers against America's Team, but today's late game in Dallas is just another Jets-Cowboys matchup. Dallas is an 8.5-point favorite.
Sunday night football: It's trending today. The Dolphins and Patriots face off tonight at Gillette Stadium in Foxborough. Can Bill Belichick slow down Tua and the Dolphins?
WNBA playoffs: Connecticut and Las Vegas can sew up their first-round playoff series with wins today. Both the Sun and the Aces won big in Game 1.
Race to the finish: Sahith Theegala has a two-shot lead in the Fortinet Championship. Justin Thomas is within striking distance and will challenge for the win in today's fourth and final round of the PGA event.
International soccer: There are a handful of matches in each of the English Premier League, La Liga, and German Bundesliga. Add in the Italian Serie A and a number of other European leagues and there's a ton of soccer to bet on today.
MLS: There is one MLS match on today's schedule. Austin FC plays at the Portland Timbers.
F1: It's not Sunday night football, but it's some serious action. If you like racing the Singapore Airlines Grand Prix finishes up today. F1 betting is one of those niche sports where savvy bettors can make a ton of money. Check it out.
Dodgers Clinch and Football Is King
Amidst a huge schedule of college football games, the Los Angeles Dodgers rallied and beat Seattle last night to clinch a division title. The Saturday of college football brought us the first glimpse of what is going to be an exciting season. We saw a couple of upsets and a few near misses throughout the day.
Staying on top of the trending news will bring bettors a few extra wins that they otherwise would not have had. That's what we're all about here at Sports Hub…bringing you the extra that you can turn into wins.
Here's what's trending in sports today.
Upsets and almost upsets: What's great about college football is when a team not expected to win pulls off a victory. That happened a couple times yesterday and there were a few others where it almost did. Missouri beat No. 15 Kansas State and Florida beat No. 11 Tennessee. Boston College almost pulled off a miraculous upset of third-ranked Florida State and Colorado State took No. 18 Colorado to double overtime. It was a great college football Saturday. Hopefully, we get similar results with Sunday night football.
Dodgers clinch: For the 10th time in the past 11 seasons, the Los Angeles Dodgers are the NL West Division champions. The Dodgers beat Seattle last night 6-2 in 11 innings to secure another division title.
Rodgers return?: There is speculation that Jets QB Aaron Rodgers could return in the 2023 season. The doctor who did Rodgers' surgery on his torn Achilles tendon is the same doctor who performed the surgery on Kobe Bryant back in 2013. Bryant returned to the court just eight months later.
Colorado and Sanders: Shedeur Sanders went 38-of-47 for 348 yards and 4 TDs in the Buffaloes' 43-35 win over in-state rival Colorado State. Coach Prime gets another win and Colorado is now 3-0 on the season.
Travis Hunter: The one bad thing for Colorado and the Sanders family from yesterday was the hit put on Hunter, the Buffs two-way star. Hunter was hit in the midsection and had to leave the game. He will miss a few weeks, which will likely prevent him from being involved in the Heisman Trophy conversation.
Sunday night football: It's an AFC East clash as New England hosts the Miami Dolphins tonight in Foxborough. Check the SportsHub members' area for Sunday night football picks.