Soccer is the big draw today with the CONCACAF Gold Cup semifinals being played tonight. Sports Hub handicappers already have four picks in the system for tonight's matches.
It's also a huge night in Major League Soccer. There are 10 matches on the schedule, including FC Cincinnati and St. Louis City SC, the leaders of the East and West Divisions of MLS, respectively. We have 18 MLS picks in the system already and the day is young.
Soccer Picks, Baseball Picks – Sports Hub Has It All
That's what we're all about here at Sports Hub…picks! We bring bettors and handicappers together. Every day, I tell you how our handicappers are doing. I also include some trending sports news and what to look for on the daily sports schedule.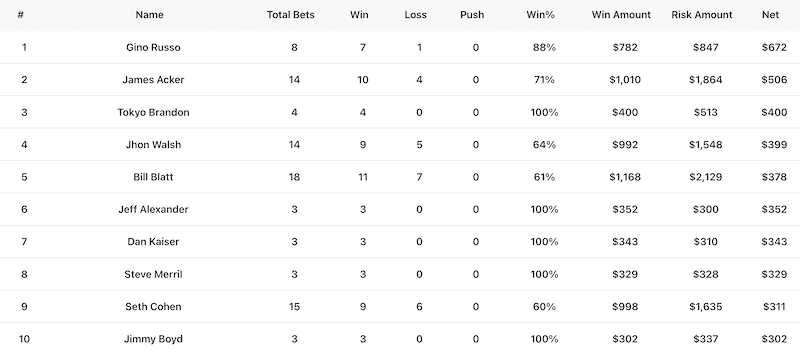 My daily report always starts with a look at how our handicappers did the previous day. It was a light day with only 21 cappers putting at least one pick in the system. It was nice to see some new faces at the top of the leaderboard.
With today having such a light sports schedule, it's a good day to talk about some of the features of our new sports handicapping software. I've talked about the benefits for bettors, but I haven't even gotten into what I can do for sports handicappers – both old and new.
Sports Hub is Your Handicapper Hub
Whether you're a longtime professional handicapper, or someone looking to break into the game, SportsHub.com has your solution. Our state-of-the-art software allows anyone quick access to our system.
Once logged in, you'll be able to add picks from a massive betting market menu. After the picks are entered, you can add analysis then just sit back and let us grade and store every pick.
Your picks will be viewable from your own personal handicapper profile page. They'll also be seen on our leaderboard, which works as advanced analytics for every single pick entered into our system.
There are many ways to become a handicapper with us. We'll let anyone sign up to use our software, but that doesn't mean your picks will be front and center. You need to earn that, showing you're a consistent winner over an extended period of time.
We will also have internal contests that will put cash into the best handicappers' pocket. Reach out to our team today if you have questions.
Join Our Team
We're also looking for self-motivated individuals to join our team. We are in the soft-start stage of our site building plan, but we are committed to rapid growth once the football season is here. Football is our passion here, and we can't wait to share it with our members.

You can visit our "Join Our Team" page by hovering over "Support" in the header, and clicking on join our team. You can see our list of needs is massive. We are based in Costa Rica, and would love to build a team to work together to make Sports Hub the biggest sports information channel in the world. Soccer fans know how passionate Costa Ricans are.
We consider ourselves a technology company that has an infinite amount of knowledge and hands-on experience to get the job done. It is not easy to find high quality programmers that have direct knowledge in not only sports, but sports betting. Our specified experts have narrowed down everything that's important to sports bettors and handicappers alike.
Now, we're giving you the opportunity to reap the rewards of decades of sports gaming expertise. Even if you're not interested in becoming a professional sports handicapper, every bettor will win more because of us.
New Guys on the Board
It was a slow day in the sports world yesterday. The MLB All-Star game was the biggest event on the schedule along with some international soccer. Sports Hub cappers put in 10 picks on the ASG yesterday. Six were on the game total. Four were winners. Just sayin'.
My team and I are so proud of the work our handicappers are doing for us. Their long hours studying games, players, stats and other secrets, are paying off in spades. Our leaderboard is the Cadillac of capping!
It looks like many of our cappers took advantage of the light schedule and took a day or two off. There were four who were in the black yesterday and each of the top three hit their only pick of the day.
All three are fresh faces. Let's take a look at how they did.
Rock Me Amedeus: Amedeus Mastrangelo, formerly known as the Soccer Authority, was tops on the board with his correct international pick. He bet the dog Atletic Tucuman at +103 for the win. While soccer is his jam, he is also using his talents on the major North American sports as well.
All That Jazz: Jazz Ray is our 16th-ranked MLB capper and last night he nailed an NBA Summer League pick. If you're looking for soccer action tonight, check out Jazz Ray's MLS pick for tonight.
Totals Guru: Can you guess what the Totals Guru bets on? Yep, that's right. It's all totals, all the time. Last night, the Guru nailed the Under in the Phoenix-Las Vegas WNBA matchup. If you're looking for a capper that focuses just on totals, the Guru has nailed four of his last five picks!
Gino's back: Gino DeLuca is back near the top of the board after going 2-1 yesterday. Over the last 30 days, he's up $495. Gino has two MLS picks available for today's matches.
ASG, Soccer Trending in Sports
If this is one of your first few visits to the Sports Hub daily report, this is the time when I let you know what is trending in the sports world. Understanding trends might help you in your quest to win more bets. Maybe you just want to impress people with your knowledge. Whatever it is, I'm here to help.
Check out what's trending today.
NL finally wins: The American League had won nine straight MLB All-Star games. Last night, Elias Diaz, playing in his first ASG at 32 years old, blasted a two-run homer in the top of the eighth inning to give the NL its first victory since 2012. Diaz was the game's MVP.
The last time the NL won an All-Star Game (2012):

-Bryce Harper & Mike Trout appeared in their 1st ASG
-Derek Jeter led league in hits at age 38
-3 perfect games that year (Humber, Cain, Hernández)
-Gio Gonzalez led league in wins (21)
-Carlos Correa went No. 1 in the #MLBDraft

— MLB Stats (@MLBStats) July 12, 2023
Soccer: The big one today is the CONCACAF semis. Team USA will take on Panama and Mexico faces Jamaica. As mentioned previously, I have four Gold Cup Semi-Final picks in the soccer system already. The winners of tonight's matches will meet on Sunday for the championship.
More soccer: It's a big day in MLS too, and even bigger for Miami. Inter City Miami FC, currently last in the East Division, just signed international superstar Lionel Messi.
Looking at Today's Sports Schedule
With the MLB All-Star game completed, baseball takes another two days off before getting back on the schedule on Friday. It's another slow day in sports, but there is plenty of soccer on the schedule.
Here's what's happening today.
CONCACAF Gold Cup: We mentioned this one already. If you haven't noticed, this is the marquee soccer event on the schedule today.
Big Day in MLS: Our Sports Hub cappers are ready to rock with today's huge soccer schedule. There are 10 matches in MLS and, as of 8:40 a.m. ET this morning, there are already 18 MLS picks in the system. If you want to access these picks, remember, you need a Sports Hub account. All you have to do is click the JOIN NOW button at the top of the page and sign up. It's free and totally worth it!
Hoops: There are five games on the WNBA schedule tonight and you'll find six WNBA picks at the Sports Hub Pick Center. Hover over Pick Center at the top of the page to access the drop-down menu. Click Basketball Picks and you'll find those six picks. Don't forget there are eight NBA Summer League games tonight too.
Men's tennis: No. 1 seed Carlos Alvarez and No. 3 seed Danilo Medvedev are both in action today. They would meet in a semifinal if both win their matches today. Novak Djokovic tied Roger Federer by advancing to his 46th Grand Slam semifinal. He'll face Jannick Sinner, the No. 8 seed, in his semifinal on Friday.
That will do it for today. Come back tomorrow for another review of how our handicappers performed, especially on all of today's soccer picks!
Before we let you go, here's a conversation with the current MLB goat: