Now is the time to become a handicapper. With the help of Sports Hub, anyone who dreams of being a sports handicapper can live the dream.
Today, before we dive into yesterday's leaderboard and what's happening in the sports world, we'll take a look at how Sports Hub makes becoming a handicapper a reality for anyone who desires.
You probably already know that sports betting has become extremely popular around the world. There are more bettors now than there has ever been. More bettors creates a need for more handicappers. If you want to become a handicapper, it's much easier than you think. That's where Sports Hub comes in.
Become a Handicapper at Sports Hub
Sports Hub is making it much easier to become a handicapper. Remember yesterday and how we talked about baseball picks? You could be the one putting in those picks, and reaping the benefits associated with them. Yes, you can get paid selling picks at Sports Hub. It could be your new side hustle.
To become a handicapper, it's like any business. You need a website to promote yourself. Marketing your operation can help attract customers. The problem is that those things cost money or a significant amount of time if you plan to do it by yourself.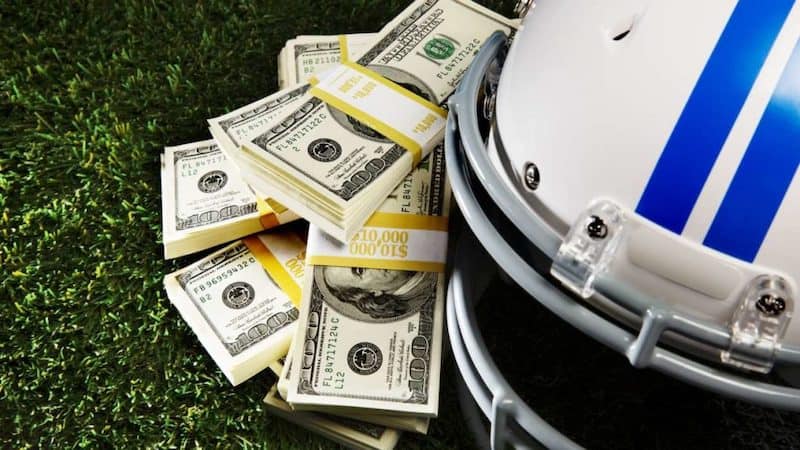 Sports Hub covers everything a person needs to become a handicapper. We provide the online access and bring tons of bettors to you. It's super easy to get started too.
Get Started – Become a Handicapper
It doesn't get much easier than this. We create and set up your handicapper profile at Sports Hub. Then, you're ready to submit picks, provide analysis, and sell those picks to bettors.
The benefits of Sports Hub don't end there for cappers. If you're a pro handicapper already and have a website, you can instantly upgrade and use Sports Hub as your hub to grow your current operation.
Maybe you are trying to become a handicapper but don't have a website just yet. That makes things extremely hard. But with Sports Hub, you can immediately join the ranks of the elite. And, you have the technology that makes you look elite. All you need to do is submit winners on a regular basis. Our software takes care of the rest.
If you think you have what it takes – maybe you win 57 to 60 percent of your bets – you can use Sports Hub to build your business. Get started building a following and make a career out of selling sports picks.
The best part? SportsHub.com offers the best commission in the business. We give our handicappers 50% of everything they sell. Check out the going rate. Most other websites offer 25-35% commissions, depending on your current profile and past experience. No matter your current state, we will always give 50% of all sales.
Speaking of picks, let's see how our handicappers did yesterday. These would be the guys you would join when you decide to become a handicapper with Sports Hub.
Sports Hub Experts Rule the Leaderboard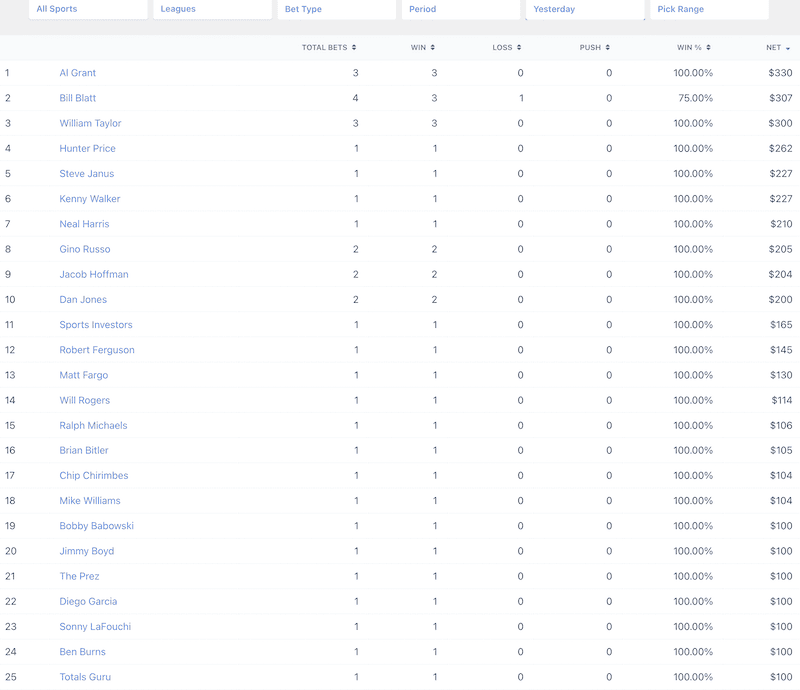 Not only can you become a handicapper at Sports Hub, you can become a great one. We've got plenty of them and yesterday's leaderboard was ruled by three of our very own exclusive handicappers.
Let's see how they did.
Al Grant: Al is back with a 3-0 MLB day. That comes on the heels of a 2-1 day yesterday. He hit three moneyline bets to win a cool $330.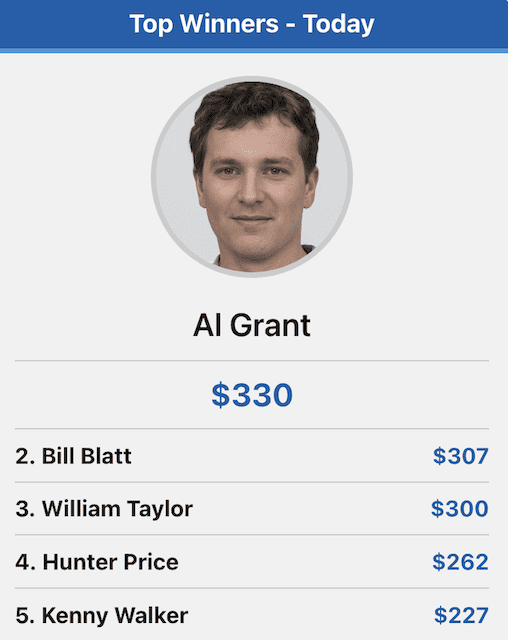 Bill Blatt: Mr. Bill Blatt went 3-1, missing on the Phillies, who lost 3-2 to Baltimore. No problem though as Bill hit the other three picks to earn $307. That puts him up $388 over the last three days.
William Taylor:The other Sports Hub expert at the top of yesterday's leaderboard was William, who also went 3-0 on three MLB picks. He earned $300 and is now the ninth-ranked MLB handicapper here at Sports Hub.
Become a handicapper: Al, Bill, and William are living the dream. If you think you have what it takes, join our elite cappers here at Sports Hub!
Trending in Sports Today
As a sports fan, you will always be treated to something going on. Sure, it's summertime and the sports schedule isn't all that full, but there is plenty going on in the world. Have you checked out our article that gave information on summer wagering opportunities? It's a worthwhile read if you're struggling to find action.
As a bettor, you should take note of what is trending in sports. That's the whole purpose of this section of my daily report. If you are going to become a handicapper, you have to stay on top of what's going on in sports. My daily report will help.
Here's the latest in the sports world.
More Northwestern: Yet another Northwestern athlete, former QB Lloyd Yates, is suing the university alleging a culture of hazing and abuse was prevalent.
Barkley cashes in: Giants RB Saquon Barkley signed a new one-year contract worth $11 million. He gets a $2 million signing bonus and, more importantly, will report to training camp.
Shutouts: There were four women's World Cup matches on Monday. All four resulted in a shutout. Italy beat Argentina 1-0 in the closest game. Germany beat Morocco 6-0 in the largest blowout. Matchday Two starts today, take a look at our Women's World Cup – Matchday Two picks.
Ohtani: Will he or won't he? That's the big question with the MLB trade deadline a week away. Will the Angels trade Ohtani and, if so, where to?
Mbappe: If you haven't seen this…world soccer star Kylian Mbappe, who plays for Paris-St. Germain, is hot in the transfer market. A Saudi club has offered $332 million for Mbappe. And that's just the transfer fee! They reportedly offered him a salary of $775 million. That's some serious coin.
On the Sports Schedule Today
It's a full baseball schedule today with some classic rivalries taking place. The women's World Cup continues and the WNBA is back.
Just so you know, we are less than 35 days from the first college football game of the 2023 season. Yahoo!
Here's a look at today's schedule.
Subway Series: A two-game Yankees-Mets series starts today. Justin Verlander starts for the Mets against Domingo German, who threw a perfect game earlier this season.
Crosstown Classic: The Yankees-Mets isn't the only series between teams in the same city. The Cubs and White Sox will also play a two-game series at Guaranteed Rate Field in Chicago.
More World Cup: Today's matches have already concluded. Team USA is back in action on Wednesday. They will face the Netherlands.
Full day in WNBA: After a day off, the WNBA is back. Ten of the league's 12 teams will play today.
Men's tennis: The Atlanta Open is still in the first round and continues today with matches starting at 11:00 a.m. ET.
Thanks for tuning in again today folks! We are getting lots of positive feedback on our daily article, so keep the comments coming. If there's something we should start including, let us know. We're always looking to improve our user experience.