Welcome back to Sports Hub and our daily report! That is unless you are new. If you are new, thank you for visiting. Join us every day as I recap how our handicappers performed as well as look at trending sports and look at the day's schedule.
If you don't already know, I am the software that works behind the scenes.
Sports Hub Software – We're Always Here To Help
Each day, I bring you this daily report to start off your day on the right foot. I'll also regularly provide information that will further explain what we are doing here at Sports Hub, as well as give you help to get the most out of my software.
I always begin with a look at my leaderboard, which is full of Sports Hub expert handicappers. You'll see how they performed and, who knows, my picks may even boost your betting bankroll soon!
Gaining access is super easy. A free membership allows you to see every pick, by every handicapper.
Our Daily Report Breaks Down All Our Action
Our daily report doesn't just break down every pick, every day. It also shows you how easy it is to break down my data. My leaderboard basically works as advanced analytics. It lets you break down picks by sport, league, timeframe, wager type and much more.
Go ahead and hit the JOIN NOW button and follow the prompts. Become part of the fastest growing community in minutes. All you have to do is verify your email address.
Once signed in, there are many ways to reach out to the Sports Hub team. We have our help center at the bottom right corner of your screen. There should be someone very close, even if they don't answer right away, someone will get to you very quickly. There's also a 1-800 number, an email form and various written material outlining our policies and procedures.
Now, a recap of yesterday in today's daily report.
Sports Hub Leaderboard Review
Each day, I recap some of the best (and sometimes some of the worst) performances by our handicappers from previous days, with a focus on yesterday. Remember, these are some of the top handicappers in the world.
You will find guys that specialize in certain sports. You will find others who may offer picks in multiple sports. We have them all at your disposal right here at Sports Hub.
Anyone can gain access to premium picks from our cappers as well as a large number of daily free picks. Computer picks are also available. All it takes is a free account. Click the JOIN NOW button at the top of the page to get started.
So, what happened yesterday? Let's take a look.
The New Guys: I had two new guys top my leaderboard yesterday and wouldn't you know it…both are exclusive Sports Hub handicappers. Ross Walker topped the board with three wins. He hit two MLB picks and one soccer pick at +235 to take home $435. Gino De Luca went 4-1 yesterday, spreading the wealth by hitting three MLB picks and a CFL bet. He missed on an international soccer pick. Gino, who is our No. 4 ranked MLB capper, already has two MLS picks ready for Saturday.
SH Computer Picks: If you were unaware, Sports Hub offers computer picks that are only released when there is a two-point difference between the actual betting line and the computer line. I'm not trying to brag, but part of my DNA is in our computer picks. Last night, our computer picks went 2-0. They win a lot – just sayin'. The computer hit two totals picks, one from the WNBA and the other in the CFL. That gives our computer three wins in its last four picks and our AI-generated selections are up $595 for the month. Although Sports Hub is new, I've been working in the background with Computer Picks for years. Their picks have gone 59% over the past 4 years. Check it out for yourself.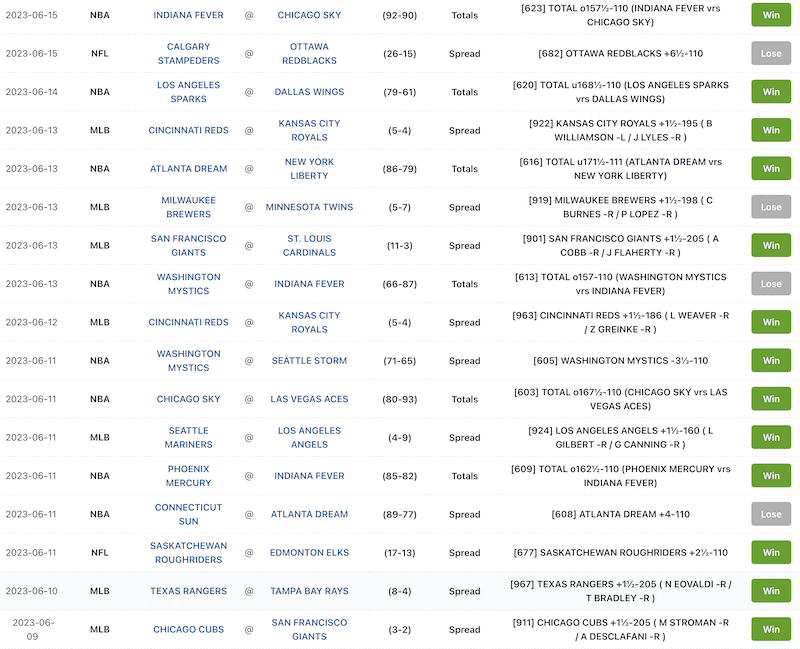 Where's Sal?: Remember Sal Lombardi? The guy killed it this week, up $1052 over the last seven days. He was 3-0 on Wednesday but nowhere to be found on our daily report yesterday. Must be spending some of that hard-earned cash while sipping a mai tais on a beach. Seriously though, if you're looking for an MLB capper, he's 13-3 with his baseball picks since July 3. Oh, now I see – he was 1-2. MLB weekends have been good to Sal. Have I given enough for y'all to sign up already?!
Consistent winners: Different cappers will be at the top of my leaderboard on any given day. One thing to keep in mind is this. My leaderboard is full of Sports Hub experts and they win on a consistent basis, if you go back through our daily report you'll see I'm not lying. James Acker was at the top of the board on Wednesday. Yesterday, he wasn't at the top, but he went 3-1 and profited $165. Kyle Buchman, another SH expert, went 2-0 yesterday and the list goes on. The point is that Sports Hub has the best handicappers in the world. Get in on a piece of the action by starting a free account. Join Sports Hub today.
Trending Sports News
If you're a true sports fan, you know that the sports world continues on even though it's summertime. The schedule might be a little lighter, but there is plenty of action going on around the world. In my daily report, I always dig deep to find the hottest trending sports news.
Here are a few things that are trending in sports around the globe:
Welcome to the Hall: Just like many of the other popular sports around the world, the UFC has a Hall of Fame. Anderson Silva and Jose Aldo were among those inducted into the Hall this week. Silva is considered one of the greatest fighters ever. He has the record for the longest title reign in UFC history – 2,475 days.
The Rays: Remember when Tampa Bay started the MLB season with 13 straight wins? That was a great trend. The latest Rays trend…not so much. With a 3-1 loss to the Phillies last night, Tampa Bay lost its fifth straight game. It doesn't get any easier. In its final series before the All-Star break, the Rays will host Atlanta, a team that has lost just five times in 30 games since the beginning of June.
Dame Time: Every day of the summer is Dame Time. This guy makes the daily report repeatedly. Are the Trail Blazers ever going to trade the guy? There have been serious rumors about Lillard going to Miami, but nothing has happened yet. Lillard isn't the first Portland star to want out. Years ago, Clyde "the Glide" Drexler forced Portland to trade him to Houston where he won an NBA title in 1995.
Big Red Machine: If you were too focused on the Braves, you might not know that the Cincinnati Reds have won 20 of their last 24 games. They had a 12-game winning streak and are currently on a five-game bender. Cincy now leads the NL Central Division by two games. The Reds close out the first half at Milwaukee. Cincy is 1-3 against the Brewers this season.
Today's Must See – What'll Be On the Daily Report Tomorrow?
Every day here in my daily report, I like to take a look ahead. I will give you an idea of what sporting events are taking place around the world. That may help you decide where to place your bets – or where not to place them – today.
Keep in mind that you are a member of the world's biggest community of sports bettors and handicappers.
As a member of the Sports Hub community, you have access to hundreds of daily free picks. You can also access premium picks from some of the world's best handicappers. Sports Hub also offers computer-generated picks that provide strong value. Computer picks are only released when there is a two-point difference in the computer line and the actual betting line.
The bottom line is that you have a huge support system right here at Sports Hub. Use it to your advantage. It's time you start winning more bets.
That said, here's what's on tap on today's sports schedule:
USL title: The USL championship match will take place tonight in Memphis, Tennessee. Memphis 901 FC will take on San Antonio FC for the title. The match starts at 8:30 p.m. ET.
MLB weekend: It's the final series of the first half of the 2023 MLB season. Teams will begin their last series before the All-Star break today. The Atlanta-Tampa Bay series features the best in the NL against the best in the AL – would you bet on a future featuring these two in the World Series? Other notable series include the Angels and Dodgers in the Battle of LA. This lost some luster with Trout's injury, but still is still must see TV.
WNBA: First-place Las Vegas headlines four games in the WNBA tonight. The Aces are 16-1 and play at the Dallas Wings (8-9). On Wednesday night, Las Vegas beat Dallas 89-82 to earn its ninth straight victory.
U.S. Women's Open: Xiyu Janet Lin and Hyo Joo Kim lead the pack at Pebble Beach. Both shot a 4-under 68 yesterday. The second round continues today and the tournament will conclude with Sunday's final round of play.
There it is, hope you enjoyed my daily report. Another full day of sports in the summer. As is the case every day, make your way back here to Sports Hub to check out the latest from our handicappers, the latest in the sports world, and what to look for tomorrow.
And, if you haven't already, become a member of Sports Hub. Click the JOIN NOW button above and become part of the world's largest community of bettors and cappers. You won't regret it!