Week 3 NFL Picks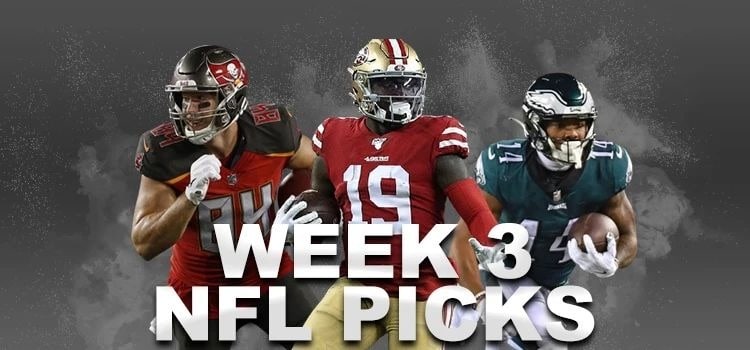 After two weeks, the NFL landscape is starting to appear. And Week 3 NFL picks is where things start to get serious. Teams need to be hitting on all cylinders by Week 3, after OTAs, training camp and two games under their belts. The same can be said for football bettors, it's time to get locked in.
Week 3 on the 2023 NFL schedule is an interesting one. Of the 16 games, only two of them are division matchups. This leaves the door open for A LOT to happen. Is this the week to take some chances?
Odd Schedule For Week 3 NFL Picks
Sometimes bettors need to take chances – but knowing where to pounce can be the problem. Let our NFL handicappers show you the way. They'll help you take the guesswork out of finding winners for your Week 3 NFL picks.
We previously mentioned that there are only two division games on the Week 3 schedule – NE @ NY Jets & Hou @ Jax. The slate opens up Thursday night at Levi's Stadium where the 49ers host the Giants. Monday Night is a highlight with a twinbill. The Buccaneers welcome the Eagles, with the LA Rams at Cincy in the second game.
Even though there are only 2 division games, there are only 4 interconference games. This includes the aforementioned Super Bowl LVI matchup on Monday Night Football. This mish-mash of a schedule, NFL oddsmakers will have trouble setting some lines. Our job is to find the weak lines.
NFL teams are plugging holes in their leaky ships, trying to keep their heads above water. Starting the season with three straight losses isn't the end, but it's time to right the ship.
The same can be said for anyone that hasn't turned a profit on their football wagers over the first two weeks. SportsHub.com has your back. There will be more than a hundred Week 3 NFL picks in our system from the best sports handicappers around. Sign up for a free account and get on the winning side today.
We have multiple exclusive handicappers that specialize in the NFL. Their winning records have been better than 65% over the last 6 years. On top of that, we know where to source sharp action from offshore sportsbooks. Get connected.
Check out these Week 3 NFL picks and see what they have to offer. You'll find the best point spread pick, best moneyline pick and the best total bet, both OVER and UNDER. You may even find a team or player prop or two.
---
Week 3 NFL Picks – Feast or Famine
Once Week 3 is over, the picture of the 2023 NFL season will become much clearer. We'll see who the true contenders are – with consistent play on both sides of the ball. Others will look bad, constantly getting scored on and not being able to move the ball on offense.
Teams that are 3-0 against the spread when reviewing your Week 3 NFL picks are who you should focus on. Vice versa, anyone that's 0-3 ATS might be fadable. Stay tuned with Sports Hub all season long, there's a lot more than Week 3 NFL picks available. Visit our daily report page – that report has everything you need, every day.
It's also a good time to reevaluate your futures bets. You may want to start hedging some of your Super Bowl or division winner predictions. As we start to compile data throughout the season, be sure to not let your heart affect where your bankroll gets spent.
Best Pick ATS
The 0-2 Chicago Bears are set to visit the 1-1 Kansas City Chiefs, and this game has the biggest spread of the weekend. That might make you believe that a blowout is coming, but you shouldn't count on the Chicago Bears just yet.
Patrick Mahomes and the Chiefs are going to put up points on this bad Bears defense but look for some desperation from the Bears on offense. Justin Fields and Chicago won't come close to winning this game outright, but he is good enough to keep the spread within two touchdowns.
Best Moneyline Pick
The 2-0 Atlanta Falcons are set to visit the 1-1 Detroit Lions, and it's hard to know what to make of these teams. Atlanta has barely won two games, while the Lions look like a team that could win the NFC North this season.
Detroit is a 3.5-point betting favorite at home, but that spread feels a bit dangerous heading into Week 3. Taking the Lions on the moneyline at -175 is the way to go, as they will be just good enough to win this game to move to 2-1.
Best Total Pick
The New England Patriots and New York Jets are set to meet up in a huge AFC East rivalry game, and these two teams don't like each other. New England is looking for its first win of the year, while the Jets are coming into this game with a 1-1 record.
The Jets are now playing without Aaron Rodgers for the rest of this year, and that offense is going to struggle in a major way. New England is a team that wants to win with defense anyway, and you shouldn't expect to see much offense in this game.
Best Player Prop
You can also look at player prop betting options when making Week 3 NFL picks, and more options will come out throughout the weekend. The Pittsburgh Steelers and Las Vegas Raiders are playing on Sunday night, and this game will be all about running the football.
Pittsburgh has a dominant defense, and they will use the rushing attack to try to create some separation in this one. Taking Najee Harris as an Anytime Touchdown Scorer is a bet that you want to make on Sunday night.
Best Team Prop
The Dallas Cowboys look like one of the best teams in the league, and they are heading to Arizona to face the 0-2 Cardinals. Arizona blew a 21-point lead in Week 2, and you should be looking to bet against this defense at every turn.
Dallas has been putting up points like crazy, and they are going to have another dominant performance in this game. Take the over 3.5 touchdowns for the Cowboys as they go to Arizona and have another big game.
Other Week 3 NFL Picks
Indianapolis Colts vs. Baltimore Ravens
The Indianapolis Colts are off to a 1-1 start to the year, but now they are expected to be without quarterback Anthony Richardson in this game. Indianapolis has really struggled to move the ball on offense, and they are facing a Baltimore defense that has been terrific.
Baltimore has roared out to a 2-0 start to begin the year, and the Ravens are looking for another big win at home. This Ravens team has the ability to run over any opponent, and they should cruise to a double-digit win in Week 3.
Buffalo Bills vs. Washington Commanders
The 1-1 Buffalo Bills travel to Washington to take on the surprising 2-0 Commanders, but it's the road team that is favored in this game. Washington has faced a favorable schedule up to this point, but beating the Broncos in Denver was a big win.
Buffalo can't afford to lose another game, and quarterback Josh Allen should have a big day against a weak Commanders defense. This game will be tight, but the Bills are going to win this game by a touchdown at least, and it's one of the best NFL Week 3 picks to make.
Tennessee Titans vs. Cleveland Browns
A pair of desperate 1-1 teams will meet in Week 3 as the Tennessee Titans travel to Cleveland to face the Browns. Both of these teams love to run the football, but the Titans and Browns are two of the best defensive teams in the league as well.
Running back Nick Chubb is now lost for the season for the Browns, and they are going to be a mess on offense. Tennessee is comfortable playing a low-scoring affair as well, and there won't be a ton of points scored in this matchup.
The Los Angeles Chargers and Minnesota Vikings are both 0-2 this season, and it's a big surprise. That sets up for a matchup of two desperate teams, and it should be a game that has a ton of offense in this matchup.
Los Angeles is a slight one-point favorite in this game, but Minnesota is going to come up with some big defensive stops in this game. Taking the Vikings is the best pick to make in this game, as they will be able to win this game at home.
New Orleans Saints vs. Green Bay Packers
The 2-0 New Orleans Saints are set to take on the 1-1 Green Bay Packers, and this is an interesting matchup. New Orleans is 2-0 despite not having a ton of offense, while Green Bay blew a late lead in Week 2.
Lambeau Field always gives the Packers a huge edge when playing at home, and quarterback Jordan Love will be making his first start at home. Look for the Packers to come up with a late field goal to take control of this game as they give the Saints their first loss.
---
Week 3 NFL Picks FAQ
How can I win more of my Week 3 NFL picks?
Following the expert NFL handicappers at SportsHub is your key to success when it comes to picking winners. Our exclusive cappers will get you on the right side, building your bankroll one bet at a time.
What are the best Week 3 NFL picks?
With such a crazy week, our experts suggest focusing on home teams with strong records over the past 5 seasons. This includes Baltimore, Seattle and Kansas City. Check our prime picks for our premium plays Week 3 NFL picks.
What props should bettors consider in Week 3?
There are a few potential high totals on the schedule in Week 3. Be sure to pay attention to high scoring offenses that are playing lackluster defenses. One bad matchup could send Tyreek Hill over 200 yards again.