Sportshub.com is changing the sports betting industry. It's changing the sports handicapping industry too. It's an entirely new way of looking at sports betting. The best part is that you can be a part of it.
There is nothing greater for the sports bettor or the handicapper than information. What if you could access data that most sports can't? Would you want it? Of course you would!
A daily visit to sportshub.com will provide you with top quality information sourced from trusted experts in the industry. On top of that, we are home to the hottest handicappers in the world! You can have access to them too.
Daily Free Sports Picks at Sportshub.com
At sportshub.com, you can find daily free picks, premium service plays, and our own artificial intelligence-fueled computer generated sports picks. We gather the best picks, from the best cappers doing all the work for you. You can visit the site daily to access a wide variety of picks.
To access daily picks, you will need a sportshub.com account. Joining is free and takes just a few minutes. Once you have verified your email address, you will be a full-fledged member of Sports Hub and you'll be able to access a huge number of picks every day.
Computer Picks at Sportshub.com
I should mention our computer generated sports picks, which we discussed more in detail yesterday. Our computer picks are derived from an algorithm that is heavily influenced by statistics. They provide real value and are different than the ordinary, run-of-the-mill computer picks.

What separates Sports Hub computer picks from others is this. Our picks our only released in situations where there is a two-point difference between the actual betting line and the computer generated line. The idea is to offer bettors picks that have real value. You can read more about computer picks in yesterday's daily report or visit sportshub.com and go to the Computer Picks section at the Pick Center.
Sportshub.com Leaderboard for Wednesday
As mentioned, one of the big things that I provide here at sportshub.com is transparency. No longer do you have to read cappers touting their own mediocre results. Handicappers cannot hide any longer. It's all out in the open here on my leaderboard.
Every day, I go back and examine the previous day. Our guys at sportshub.com are very good and, if you may have noticed, you begin to see some familiar names at the top of the board. It happened again yesterday.
Let's take a look.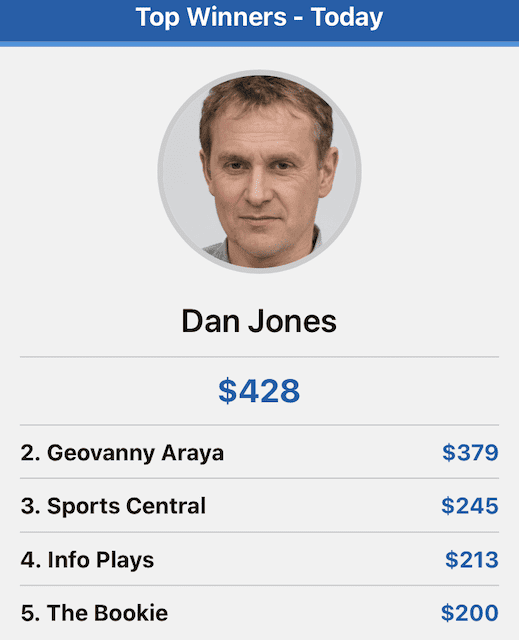 Dan Jones: Dan is a Sports Hub expert who is no stranger to the top of the leaderboard. Yesterday, he went 3-0 on two MLB picks and one soccer pick. Dan took home $428 to lead all of our handicappers.
Soccer guy is back: Remember Geovanny Aryana? If you don't, he's one of our leading soccer experts here at Sports Hub. Yesterday, he crushed two more soccer picks to win $279. That gives Geovanny a 7-3 record over his last ten picks! Yes, they are all soccer picks too!
Sports Central: You should remember Sports Central too. Last week, they had a two-day run of 11-3. Yesterday, SC went 4-2 on their MLB picks and netted $245 for a winning day.
Winning day: It was a great day on the leaderboard as 36 of the top 50 went home winners. That sure beats the alternative. Hopefully, you were on the right side yesterday. If not, join sportshub.com and get access to free picks, computer picks, and all of these great handicappers!
Thursday's Sports Schedule
As we get closer to the weekend, the sports schedule fills up a little bit. The women's World Cup event continues and the WNBA is in action again.
It's a very light day in baseball, as you'll see. Where can you find betting value today?
Let's check out the highlights of Thursday's schedule.
Women's World Cup: The tournament continues with host country Australia playing Nigeria at Brisbane Stadium. It's one of three matches today. Team USA managed a draw with the Netherlands ending a 13-game World Cup winning streak.
Women's hoops: Sticking with the women, the WNBA has two games today. Indiana is at Los Angeles in the afternoon and Atlanta plays at New York tonight.
Light MLB day: There are only five MLB games today and two of them are part of a doubleheader. Shohei Ohtani (more on him later) will pitch Game 1 in Detroit today as the Angels take on the Tigers twice.
Golf: After last week's Open Championship, the anticlimactic 3M Open begins today. Tony Finau (+1200) is the favorite to win the event.
More soccer: Leagues Cup play continues tonight. The top two teams in MLS are in action. FC Cincinnati (15-6-2) leads the MLS East Division and takes on Guadalajara tonight. St. Louis City SC (13-2-8) sits atop the West Division. They will face America later tonight.
The More You Know – What's Trending
It pays to be a winner. Winning bets requires you to have knowledge. Nothing beats information. Just ask the handicappers here at sportshub.com. It's how they repeatedly get to the top of my leaderboard.
If you want to stay on the right side of your bets, you need to stay on top of what's happening in the sports world. One simple piece of information could influence one of your bets…and make you a winner!
Here's what's happening in the sports world right now.
Deal or No Deal: Now, the Angels are saying that Ohtani is off the trade market. Instead, LA sent two of its top minor leaguers to the White Sox for P Lucas Giolito and reliever Reynaldo Lopez.
Back to the Big 12: Colorado was in talks with the Big 12 to return to the conference it left in 2011. The Big 12 just voted to unanimously welcome the Buffaloes back. The move will take place after the 2023-24 season.
Thor traded: The trades are starting to head up in MLB. Giolito to the Angels and now Noah Syndergaard is moving from the Dodgers to Cleveland. Los Angeles gets SS Amed Rosario.
Harbaugh: The Michigan head football coach will reportedly be suspended for the Wolverines first four games due to something called Level I recruiting violations. They happened during the COVID-19 pandemic.
There you have it. You are now prepared for a full day of sports and sports betting. To get yourself right each and every day, visit sportshub.com regularly and check out my daily report. That's what winners do!