With the Round of 16 coming in the women's World Cup, Sports Hub is your source for the best soccer picks in the industry. As you will see in a few minutes, we have the best handicappers in the world right here offering up winning picks in all the major sports as well as the niche sports too. You want wins? You've come to the right place.
Sports Hub is changing the way we look at sports betting. We're bringing bettors and handicappers together in a community that is all about success. Anyone can join Sports Hub – click the JOIN NOW button above (it's free!) – and the benefits are endless. We've got MLB service plays, NFL picks, and much more. In terms of soccer picks, you'll find that we have multiple soccer experts like Gino Russo, who is ranked as our No. 3 soccer handicapper. Gino has been mentioned here in my daily report a few times for his success.
Finding Soccer PIcks at Sports Hub
Once you've become a Sports Hub member, you can log in to get to the members' area. At the far left of the home page, you'll find the Pick Center. Hover over Pick Center to open up the drop-down menu where you will find Soccer Picks. Click on Soccer Picks and you will be taken to the page.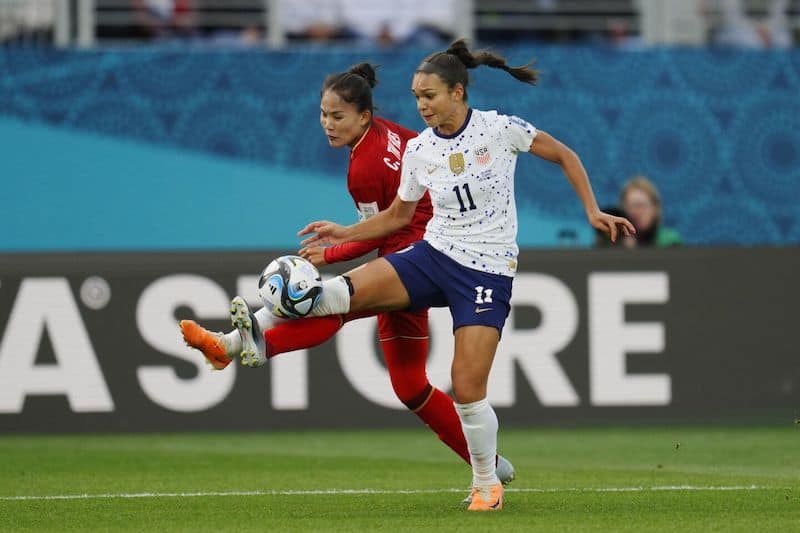 On the Soccer Picks page, you will find articles about betting on soccer from our experts. You will also be able to access soccer picks from our handicappers. You will find picks on a daily basis throughout the MLS season as well as picks for the many European soccer leagues, including the Premier League. With the women's World Cup currently happening right now, our soccer experts are hard at work preparing their Round of 16 picks which will be released today.
What a Day on the Leaderboard
You know, I just love checking out my leaderboard each day. It brings me great pleasure when I see things like what happened yesterday. We have some great handicappers here at Sports Hub. Each day, I get to bring you the best of the best from the previous day. Yesterday, there were 12 cappers who put at least two picks in the system and went unbeaten. Interestingly, none of them were at the top of the board. That was reserved for Mike Kelly.
As we'll see in a minute, Mike had a strong performance. He's been doing well over the last month as are a number of other Sports Hub handicappers. These guys are hitting everything from MLB picks to soccer picks. If you haven't already, you really should become a member of Sports Hub. Joining gives you access to all of our handicappers, their picks, and more. If you're looking for success with your soccer picks for the World Cup, this is the place to be.
Here's a look at how the leaderboard played out yesterday.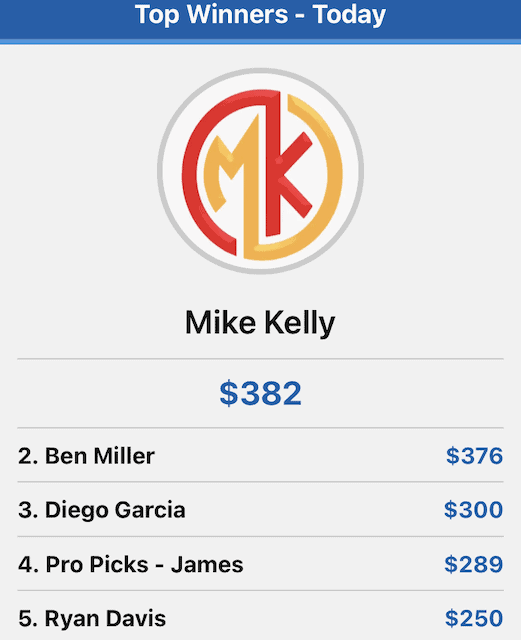 Costa Rica's finest: As mentioned, Mike Kelly got after it yesterday. He put 11 picks in the system and went 8-3 betting MLB and tennis. With winnings of $382, Mike is now up $1562 over the last 30 days. He doesn't have any soccer picks today, but he does have a pick in for tonight's NFL Hall of Fame game.
Ben & Diego: You'll recognize Ben Miller's name as he has been here before. Diego Garcia is another Sports Hub expert that has been on the leaderboard before, just not this high. Ben and Diego each hit all three of their MLB picks for a perfect 3-0 mark yesterday. Ben won $376 and Diego pocketed $300. Ben is all over my leaderboards. He's No. 2 over the last seven days ($1042) and No. 4 over the last 30 ($1232). Diego has hit seven of his last eight picks.
Perfect 10: Ten more handicappers went 2-0 yesterday, all winning at least $200. The best of the bunch was Pro Picks-James who picked two MLB upsets and won $289. Ryan Davis, who is No. 10 in soccer picks at Sports Hub, also hit two MLB picks to win $250.
Soccer Picks Among Today's Trends
With the women's World Cup moving to the knockout stage, Sports Hub soccer picks will be in high demand. Soccer is not the only thing trending in the sports world today. Baseball is heating up as the season hits the dog days of summer. A couple of teams are flying high right now.
It's only August 3, but football is in the air. There are actually two professional football games tonight. Sure, one is just a preseason game, but it still feels good. It won't be long before the college football season kicks off with the NFL following not too far behind. I know I'm looking forward to the football season. Bookmark Sports Hub if you want to have your most successful football season ever!
Here's what is trending today.
Big Ten expansion: The days of the superconference are coming. A rumor is swirling that Washington and Oregon of the Pac-12 and Clemson and Florida State from the ACC could be moving to the Big Ten. The Big Ten currently has 14 teams and adding these four would create an 18-team conference.
Domingo German: He pitched a perfect game this season, but German will not pitch again for the Yankees. Instead, he is off to rehab. The 31-year-old is dealing with alcohol abuse and will enter a treatment program. German was 5-7 this season with a 4.56 ERA.
Royals?: If the Kansas City Royals are trending, it's usually because of something bad. Not the case this time. KC now owns the longest winning streak in MLB with its fifth straight win last night. The Royals beat the Met 4-0 behind a 6-inning shutout performance by pitcher Cole Ragans. KC will attempt to sweep the series with New York later today.
Round of 16: The women's World Cup moves to the knockout stage beginning this Saturday. Team USA plays Sweden on Saturday. Soccer picks for the Round of 16 and the remainder of the World Cup can be found right here at Sports Hub.
Chicago Cubs: The Cubs are on fire! They have won 12 of their last 15 games and did themselves a huge favor last night by beating NL Central leader Cincinnati…again. And, it was the way the Cubs beat the Reds. After smacking 7 HRs and winning 20-9 on Tuesday night, Chicago hit 5 more dingers last night and beat Cincy 16-6. For all you math majors in the house, that's a two-day run total of 36 runs! The Cubs are now just three games out of first place in the division.
Some Variety on Thursday's Sports Schedule
A random Thursday at the beginning of August wouldn't normally be thought of as a great sports day. I would argue that today's sports schedule is solid. How about two professional football games? In August!
Of course, it's still baseball season and there are 10 games on tap today and tonight. There is soccer, golf, and even a WNBA game on tap. The weekend will bring us even more on the sports schedule. Like I said, not too bad for an August Thursday.
Here's a look at today's schedule highlights.
NFL is back: The annual Hall of Fame game takes place tonight in Canton, Ohio. The New York Jets and Cleveland Browns kick things off at Tom Benson Hall of Fame Stadium. The game is the first of the major events surrounding Saturday's induction ceremony.
World Cup: The final two matches of the group stage of the tournament are taking place right now and will probably be completed by the time you read this. The top-16 teams advance to the knockout round, which begins on Saturday. Don't forget, the Round of 16 soccer picks will be available right here at Sports Hub.
CFL: Week 9 of the CFL season begins tonight with a battle of the top two teams in the West Division. The BC Lions (6-1) will take on the Winnipeg Blue Bombers (5-2) in Winnipeg.
WNBA: Only one game is on the schedule tonight. Atlanta (14-12) will take on Phoenix (6-19). We have a number of basketball handicappers who have been having success with the WNBA. Check out their picks, as well as soccer picks and more, at Sports Hub.
Golf: After last week's Open Championship, it's kind of anticlimactic but the Wyndham Championship is this weekend. The tournament starts today. Sungjae Im is the overall betting favorite at +1600. Sports Hub has a number of golf handicappers offering winning picks. Don't forget to check the member's area for golf picks, soccer picks, NFL picks, and more.
That's it for today. Not a bad lineup of sports on tap for a Thursday in the dog days of summer. Remember, Sports Hub is your one-stop resource for everything sports betting. Whether it's articles on betting strategy or soccer picks that you need, we've got it. If you haven't done so already, click the JOIN NOW button at the top of the page to make sure you can access all of the information that will transform your betting career.