It's Saturday and that means it's UFC Fight Night. It also means it's time for another Sports Hub Daily Report.
If you're new to this experience, I'm the software that operates behind the scenes here. Each day I bring you a rundown of how our handicappers performed. Sports Hub is the largest community of bettors and handicappers in the industry.
One of the biggest advantages to becoming a member of Sports Hub is the access to tons of expert handicappers' picks. You'll find handicappers that specialize in a variety of sports. Some even specialize in certain bet types.
The point is that if you are looking for quality handicappers, you'll find them here at Sports Hub.
Join Sports Hub, Get UFC Picks
As mentioned, tonight is a big UFC night. There are a ton of fights on the card tonight and we actually have seven UFC Vegas 77 picks in our system already. Scott is our MMA expert and has a full writeup on tonight's card. Click the link.
Anyone can gain access to these picks by simply joining Sports Hub. It's free to join. All you have to do is click the JOIN NOW button at the top of this page. Follow the prompts and, in a matter of minutes, you'll have a Sports Hub account.
That account will allow you to access a variety of daily free picks, computer picks, and more. Each day, you can come back here and see how all of our handicappers did the previous day.
That's another benefit of becoming part of our community. We're totally transparent here. Picks are put into my system and everything is logged. You can find any capper's records at any time. It's all in plain view.
With that in mind, let's take a look at yesterday's leaderboard.
Sports Hub Cappers Keep Winning
What a day for Sports Hub handicappers. You know that saying, "You can't win them all." Well, that didn't apply to my leaderboard yesterday. Among my top-50, every single handicapper ended up a winner.
Robert Jones, one of our Sports Hub experts, went 4-0 with winnings of $474 to lead the pack. At No. 50, you have SWJ Sports, who went 2-1 and won $85.
SWJ Sports is noteworthy not only for yesterday, but also for his performance over the past 30 days – up $995! One of SWJ Sports' specialties is UFC and you can find five picks in my system for tonight's big UFC Vegas 77 Fight Night.
Let's take a look at yesterday's top performances on the leaderboard.
Miller killing it: Right behind Robert Jones at the top of the leaderboard was another Sports Hub exclusive capper – Ben Miller. Ben hit four of five MLB picks and pocketed $343 for the day. That makes him our biggest winner over the past seven days. He's up $985 for the week!
More Sports Hub success: Jimmy Liu (2-0) and William Taylor (3-0) won $312 and $300, respectively, yesterday. Both are Sports Hub experts and they managed to nail all of their MLB picks yesterday.
Top MLB capper: If you are looking for a MLB handicapper, look no further than Tonny Ricci. He's one of our exclusive Sports Hub cappers and he's ranked No. 1 in MLB. Yesterday, he went 2-1 and won $141. That puts him up $459 for the week and $1765 over the last 30 days. He has one MLB pick for today in the system already.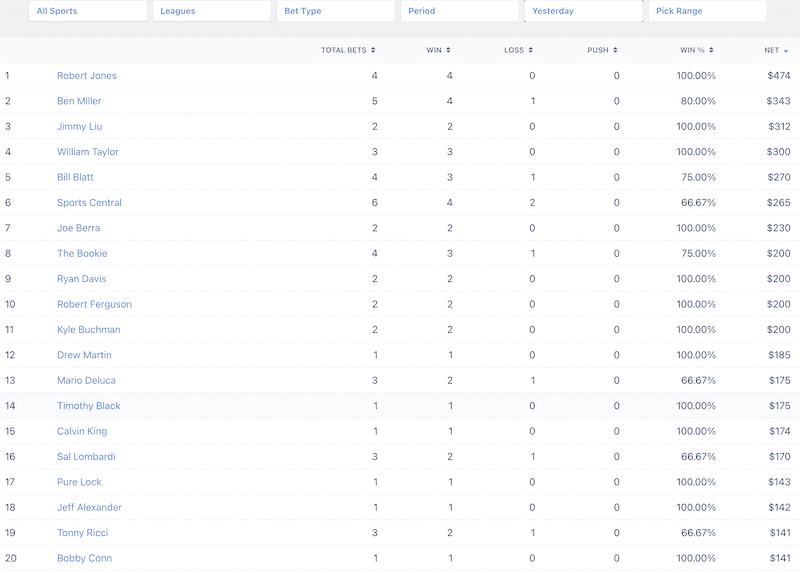 Trending in Sports
If you're going to bet on sports, you better keep track of what is going on in the sports world. Every day, I offer you a look at what's trending.
Here's a look at today's top trends.
Braves win: The Atlanta Braves didn't miss a beat as they began the MLB second half. Atlanta beat the White Sox 9-0 to win their 10th straight home game and 15th of their last 17 overall. Matt Olson, the NL leader in HRs (30), hit a first-inning grand slam giving the Braves a home run in 27 straight games.
No Sho: Shohei Ohtani might want to take up MMA and join the UFC. For some reason, he can't seem to beat the Astros. He returned from the break to start against Houston last night. Ohtani lost to the Astros for the third time this season. He allowed four earned runs and was pulled in the sixth inning.
Three-ball: Sabrina Ionescu of the New York Liberty hit 20 straight three-pointers and set a record for points in a round of the WNBA's Three-Point contest with 37. She won the competition, of course.
This just in: After a long week in Evanston, Illinois, Northwestern University finally had a day where they did not fire any of the school's coaches.
UFC, MLB Top Today's Schedule
It's another great day for sports after that MLB All-Star game lull. The UFC Fight Night tops the day's schedule, and there are plenty of other events to keep fans and bettors busy.
Here's what's on tap today.
Wimbledon finals: Marketa Vondrousova could become the first unseeded women's singles winner in Wimbledon history. She'll face Ons Jabour, who could become the first African woman to win the title.
UFC Fight Night: Holly Holm takes on Mayra Bueno Silva in tonight's feature fight in MMA action. Holm has won three of her last four fights. Bueno Silva has won three straight, all by submission.
PLL: Yes, the Professional Lacrosse League was in action last night. The Waterdogs beat the Whipsnakes 16-13 and the Archers topped the Redwoods 10-3. There is more action tonight as the Chrome plays the Cannons and the Atlas plays the Chaos. Gotta love those team names!
Full MLB slate: The MLB is back and we have another full slate of games. That means our handicappers will be back at it with plenty of MLB picks. Remember, it's Ben Miller, who had the big day yesterday, who leads our MLB picks leaderboard this week. He's up $985 over the last seven days on his baseball picks.
Get in on the action. There is plenty of it today, including the big UFC Fight Night. Then, check back here tomorrow to find out how our handicappers performed and what's next in the world of sports.
Don't forget, if you haven't joined Sports Hub, make sure you do. Click JOIN NOW at the top of this page and become part of the largest community of bettors and handicappers in the industry!