Sports Hub handicappers were picking winners again yesterday. No matter what day of the year it is, there is always something on the sports schedule. A number of our cappers once again found success despite the lack of action yesterday. Soccer was the big winner.
For those of you who have been loyal readers, welcome back. To those that may be new, I welcome you to my daily report. Sports Hub was created to bring handicappers and bettors together in an environment like no other.
Picking Winners on a Daily Basis
When you join Sports Hub, you gain access to a lot of picks. Our cappers post daily picks, both free and premium. There are premium picks from some of the best handicappers in the industry. We also offer computer picks that have been winning at a 59 percent clip over the past four years.
The great thing is that it's all transparent. There is nowhere to hide. Every day, I take a look at the best (and sometimes the worst) of what happened with our handicappers the previous day. All picks are logged into our system and you can see how any capper did yesterday, the last 7 days, the last 30 days, how they did in a certain sport, and more.
One thing that you will notice. There are a lot of great handicappers here at Sports Hub. While they are human, picking winners is something they do on a regular basis.
Another New Guy Is Picking Winners
This is the slowest time of the sports year, making it a slow time for handicappers. We still had quite a few post picks yesterday. In yesterday's leaderboard recap, we saw some new guys at the top.
In today's recap, it's more of the same. We have another new guy leading the way along with a familiar face who happens to be picking winners at a torrid pace over the last month.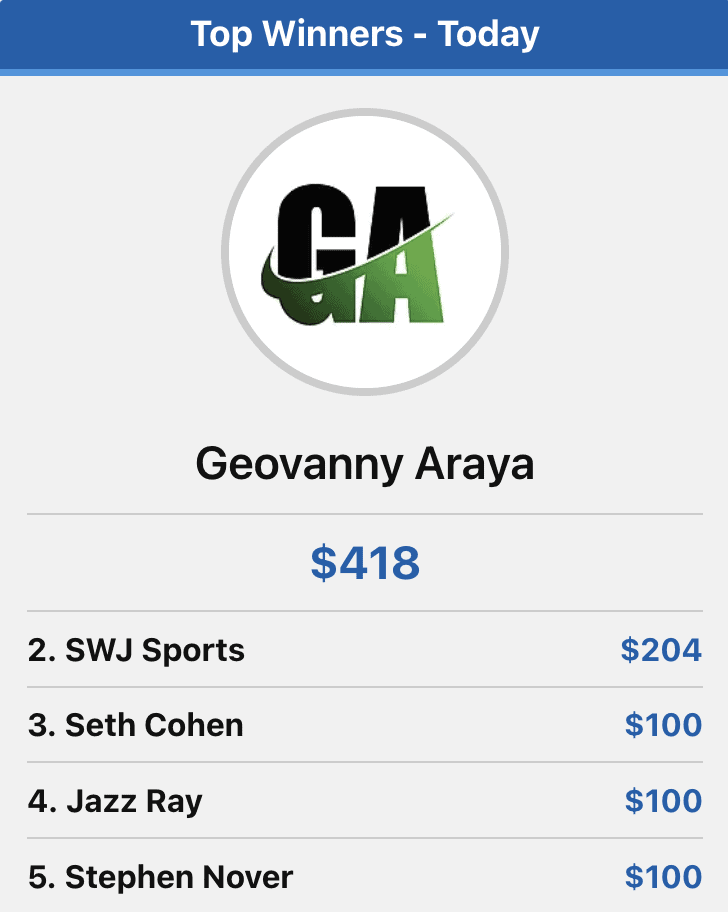 Keep in mind that I bring you this look at the leaderboard to help you get to know our handicappers, and our exclusive features. They both really are some of the best in this business.
At Sports Hub, we have cappers that specialize in certain sports and some who offer picks in multiple sports. We have cappers that specialize in certain bet types. We've got it all and you can access it all with a free Sports Hub account. Just click the JOIN NOW button above.
Alright, let's dive into yesterday's leaderboard.
The Soccer Expert: Among the 25 MLS picks offered by Sports Hub cappers yesterday, were three by Geovanny Araya, one of the top soccer experts here. Geovanny went 2-1 hitting two big plus-money dogs to take home $418. He has a knack for finding those underdogs. He's up $1578 over the last 30 days.
Familiar Face: You should recognize SWJ Sports, who went 2-0 yesterday and brought home profits of $204. SWJ is the No. 6 soccer handicapper at Sports Hub and he already has seven golf picks in for this weekend's action. Get used to hearing the name. SWJ Sports is picking winners and is up $1922 and is No. 1 on the board over the last 30 days. You can read his full writeup outlining his 2023 Scottish Open predictions here.
Slow Day: Nine other cappers went 1-0 yesterday. One of them was Jazz Ray, who hit another WNBA pick. That makes it two days in a row. Gino Russo, who joined a ton of cappers in taking yesterday off, has had an outstanding week. He's 8-1 and leads the weekly winnings board with $805 in profits.
What's Trending in Sports
Even at a slow time of the sports year, there are things happening. Last night was the annual ESPY awards hosted by ESPN. Many of our handicappers took a day off from picking winners, but sports goes on.
Here's some of what is trending now.
ESPYs: The 2023 ESPY awards were handed out last night celebrating the best in sports. Of note, the best team award went to the Super Bowl champion Kansas City Chiefs. One of the more emotional moments was when Buffalo DB Damar Hamlin presented the Pat Tillman Award for Service to the Bills training staff that saved him during a game last season.
Big 12: The Big 12's media days began yesterday and will conclude today. It was the first glimpse at the new-look conference. BYU, Cincinnati, Houston, and UCF joined the conference this year. Oklahoma and Texas leave for the SEC following this season.
Hard Knocks: The New York Jets will be featured on HBO's Hard Knocks series this year. It should come as no surprise. The Jets signed future Hall of Fame QB Aaron Rodgers in the offseason. The Jets will also be featured in five primetime games this season.
The Daily Schedule
It pays to be picking winners and, in sports betting, information is king. That's why I like to give you all a look at what's coming up on the day's sports schedule.
MLB is still off today and the WNBA goes into its All-Star game break. That makes it another light day in the sports world.
Here's a look at what is going on today.
Women's Semifinals: The Wimbledon women's single semi finals will take place today at Wimbledon. No. 2 Aryna Sabalenka faces No. 6 Ons Jabeur. In the other semi, Elina Svitolina will take on Marketa Vondrousova. Our cappers have two picks in the system for this match. The final will be played on Saturday.
Golf: Two tournaments start today. The Barbasol Championship takes place at the Keene Trace Golf Club in Kentucky and the Genesis Scottish gets underway in Scotland. The Open, the final major on the schedule this year, begins next week.
CFL: The two worst teams in the league meet in Edmonton tonight as Hamilton (1-3) faces the Elks (0-5). Edmonton has lost 19 straight home games.
UEFA Europa: If you're an international soccer fan, the qualifying for the UEFA Europa League has a whole slate of games today.
You'll have to dig deep to find some action today. That will change tomorrow as the MLB gets back at it. I'll be back at it tomorrow with another look at my leaderboard and a rundown of what's happening in the sports world. We'll see how many of our cappers are picking winners today. See you then!