US Open tennis is in full swing right now as men's and women's single matches in the first round of the tournament are just about complete. The second round will begin next week and the tournament runs through the Labor Day weekend with the men's singles final taking place on Sept. 10, the final day of competition. That means there will be plenty of betting opportunities over the next few weeks. Time for Sports Hub to step in and deliver with expert analysis, picks, premium service plays and more.
Sports Hub also always has the latest sports news. Before we get back to more US Open tennis, check out what happened to MLB superstar Shohei Ohtani. You can read about it below.
Sports Hub is your home for all of the best US Open tennis betting information. Our tennis handicappers have been preparing for this event. I have too. Not too long ago – August 11 to be exact – I mentioned how the US Open was coming soon. Now, it's here! You can also visit our tennis hub, which is chock full of information for tennis bettors. There are odds, news, picks and more to help bettors get on the right side of the action.
How to Bet US Open Tennis
If you weren't aware, tennis has become a popular sport to bet on for many sports bettors. One of the unique aspects of tennis is its schedule. The men's ATP Tour and the women's WTA tour each begin their respective seasons in late December. The tennis season runs all the way to the following November. Essentially, it's year-round. That means bettors can find a tournament just about every weekend of the year.
With tournaments every weekend, bettors have tons of options on a weekly basis. The most popular bet is on a tournament winner. It's a tough bet to hit, but it can be pretty lucrative. Even favorites to win a tournament can be found at great odds. US Open tennis odds in the men's singles, for example, feature Novak Djokovic (+120) and Carlos Alcaraz (+150), the defending champion, at plus-money. No. 3 on the board, Daniil Medvedev, is listed at +700. It's common to see tennis favorites to win a tournament at odds of +500 or even higher.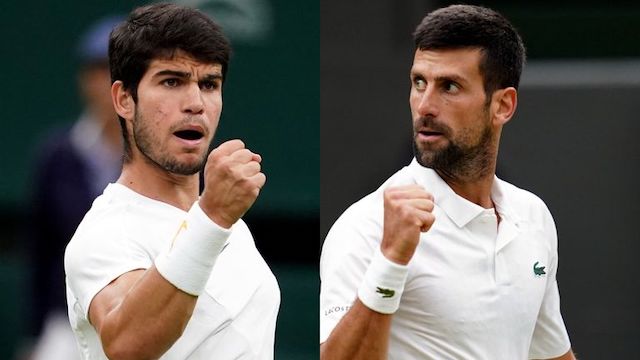 There are tons of other markets to bet on US Open tennis. You can bet on individual matches much like you can bet on MLB or NFL games. There are moneyline, spread, and totals markets too. Bettors can even wager on US Open tennis props! The bottom line is that there are many different ways to take advantage of betting on tennis. Sports Hub is here to help you do just that. Take a look at our article on important tips for betting on tennis.
There are already a few US Open tennis picks in our system for today's matches. That brings us to everyone's favorite part of my daily report – the leaderboard review. We've got the top experts in every sport, including tennis, ready to deliver the best picks in the industry.
Cappers Getting Ready for the Weekend
It was somewhat of a slow day on the leaderboard. Ryan Davis, yet another Sports Hub expert, led the charge with $248 in winnings. The schedule wasn't as full as it will be today and through the weekend. We'll talk about that in a moment.
Still, we had a number of handicappers that put in one pick and nailed it. Plus, the top 43 cappers on the board all went home with something. That beats losing any day!
Let's survey yesterday's board.
Another Sports Hub expert: It's like they're everywhere! As mentioned above, Ryan Davis was the big winner yesterday hitting two MLB picks – both underdogs, by the way – to win $248. Ryan is a top-20 capper in NBA, NHL, and soccer.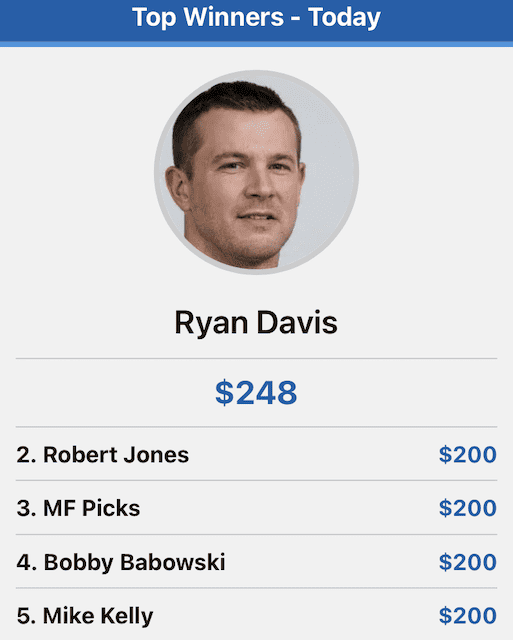 Connect four: The next four guys on the board all won $200. Robert Jones, Mike Kelly, and Bobby Babowski each went 2-0. Matt at MF Picks went 3-1, missing on one of his four MLB picks. The wins were significant for Robert and Mike. Robert is on fire this week with $795 in winnings over the last seven days and he has US Open tennis picks in the system for today. Mike is one of our top handicappers. He is now up $1462 over the last 30 days.
What if: The Sports Hub expert cappers here are really good. Think about this. What if you would have followed just the top two guys on the 30-day leaderboard for the last month? Ben Miller and Mike Kelly have combined to win 62.98 percent (131-77) of their bets over the last 30 days. If you would have played their cards every day, you would have … wait for it … $4178 in winnings! That's how good Sports Hub experts are. All it takes to gain access to their picks is a Sports Hub membership. Click JOIN NOW above.
US Open Tennis Among Top Trends
The US Open tennis tournament is picking up steam as the first round comes to a close today. There is plenty of other trending sports news. As usual, I bring you the best in sports information so that you can stay on top of what is happening. There will come a day when keeping up with trending sports news wins you more than just a few bets.
Read on to see today's top trends.
The ACC: There are rumors everywhere that the ACC is going to grow. In a last-ditch attempt, Cal and Stanford, left hanging by the dissolving Pac-12, are likely to be added to the ACC. Those two schools along with SMU will probably be announced as new ACC members very soon.
The Judge rules: The Yankees had lost 8 straight games. Aaron Judge ended that streak pretty much on his own last night with his first three-home run game. He had six RBIs as New York beat Washington 9-1.
No Sho: The Angels Shohei Ohtani smacked his 44th homer of the season, tops in MLB, but he also left last night's game after 26 pitches. It was later revealed that Ohtani has a UCL tear and will not pitch the rest of the season.
Jimmy Buckets goes Jimmy Tennis: Yes, Jimmy Butler can do it all. At a US Open tennis charity event last night, Jimmy Buckets actually scored a point on US Open favorite Carlos Alcaraz. No word on whether Jimmy Buckets will opt for a second career as Jimmy Tennis.
It's Messi again: Just when you think there's no way he can keep doing this, Lionel Messi does it again. Messi led Inter Miami CF to a thrilling comeback victory over FC Cincinnati to advance to the US Open Cup final. Miami won on penalties and it was Messi's club's second shootout in four days.
The Weekend Is Coming – Thursday's Schedule
It's the appetizer for the weekend again. That means it must be Thursday. There's football back on the schedule as the NFL's preseason begins its final week of play. The CFL's Week 12 begins tonight in Winnipeg. Baseball is, of course, the main course on today's schedule. Sports Hub handicappers are like kids in a candy store as today offers a wider variety of betting opportunities. There are numerous picks, including those US Open tennis picks, in our system already for today.
Here's today's sports schedule.
MLB: It's a light day in baseball with nine MLB games on the schedule. Some teams are ending their early week series while others are beginning a long weekend series. Keep an eye on Sports Hub expert Robert Jones. He went 2-0 yesterday and is our top MLB handicapper over the last 7 days with $805 in winnings.
Big day in the WNBA: There are four games on tap in the WNBA tonight. The big one is New York taking on Connecticut. The Liberty are currently the No. 2 seed in the upcoming WNBA playoffs. The Sun checks in at No. 3.
NFL preseason: Two games kick off the final week of the NFL's preseason. Pittsburgh travels to Atlanta and Indianapolis is at Philadelphia. Steelers head coach Mike Tomlin said he will play all of his healthy starters. Eagles head coach Nick Sirianni will most likely rest all of his starters.
UEFA, NCAA soccer: If your jam is international soccer, today's a great day. The UEFA Europa League and Europa Conference both have multiple matches around the world today. NCAA men's and women's soccer are now in full swing. There are over 50 matches scheduled for today.
More little guys: If you haven't tuned in yet, go watch some of these Little League World Series games. These kids are so good! US Southwest and Asia-Pacific have already advanced to the finals in their respective brackets. Two more games today and we'll have a final four.
Don't forget the guys up North: The CFL season moves on and heads into Week 12 already. Montreal is in Winnipeg. There are two CFL picks in the system for tonight's game. Don't forget to check out the US Open tennis picks too.
US Open tennis: The qualifying round of the US Open tennis tournament continues today. Winners will advance to the second round which starts next week. There are tons of betting opportunities here for savvy bettors.
There's your appetizer for a weekend that will offer even more. Don't forget, it's Week 0 in college football! While it's not a full slate of games, it's still college football. While you continue to get ready for the football season, don't forget about US Open tennis and all that it offers. Sports Hub is your guide to get you through the tournament with expert analysis, betting tips, picks, and more.
Come back tomorrow for another recap of the day's sports as well a rundown of how Sports Hub's expert handicappers performed. See you tomorrow!