Thursday night football in the NFL is just one week away! College football delivers us 11 games tonight on its version of Thursday night football. It doesn't get any better than this! We've been waiting patiently for football season to come back around. Now, it's upon us and Sports Hub is here to guide you through it all. We've got everything you need – free picks, computer picks, premium service plays, and tons of winners!
Our experts will have a wide variety of content on how to win more Thursday night football bets. Yesterday, we talked about line shopping. That's one very easy way to win more football bets or wagers in any sport. Sports Hub professionals will also provide NFL and college football betting tips. Plus, don't forget to visit our weekly NFL and NCAA football picks pages. You'll get a break down of each week's top games, analysis, best picks, and more.
NFL Thursday Night Football Kicks Off Next Week
While we get a serving of college football tonight, the NFL begins the 2023 season with its annual kickoff game next Thursday. As is tradition, the previous Super Bowl champion will host the season opener. The Kansas City Chiefs and Super Bowl MVP quarterback Patrick Mahomes will take on the Detroit Lions next Thursday.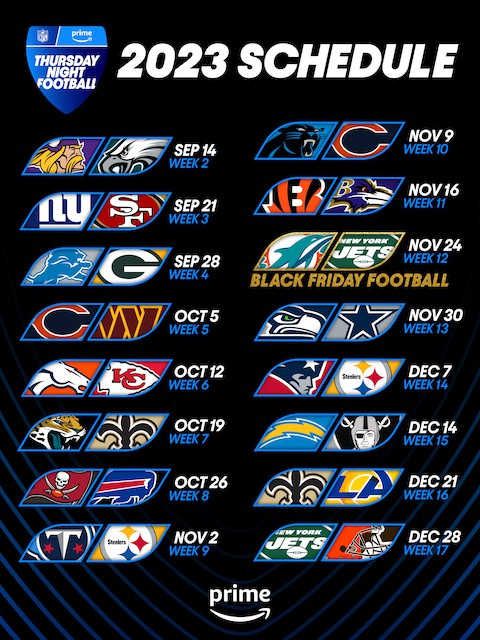 The Lions were a big surprise last year in head coach Dan Campbell's second season. Detroit started the 2022 season 1-6, but rallied behind an explosive offense to finish 8-2 over their final 10 games. The 9-8 finish was the first winning season for the Lions since 2017. Expectations are high in Detroit for the first time in a long time. The Chiefs will be heavily favored and you can visit our Thursday Night Football page for a breakdown and analysis of the matchup. 
Make sure to check out the Thursday night football picks
Big Ben Rules the Sports Hub Leaderboard
Look, I'll make this as simple as I can. Ben Miller is an absolute stud. Once again, he topped my leaderboard with another perfect performance. Here's a guy who is hitting nearly 61 percent of his picks over the last 30 days. Want to win more of your Thursday night football bets? Ben is your guy. Want to win more MLB bets? Did I mention that he is our No. 1-ranked MLB handicapper?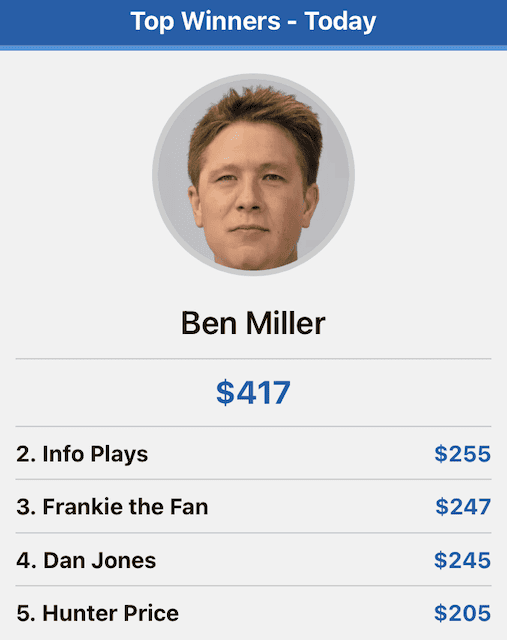 Here at Sports Hub, we have the top cappers in the world. Ben isn't the only one. We had 26 handicappers win at least $100 yesterday. And that's on a late August day with a light sports schedule. Just wait for Thursday night football, Saturday college football, NFL Sundays, and more! Our guys are going to tear it up. Hop on the money train and become a Sports Hub member if you haven't already.
Here's a recap of yesterday's leaderboard.
Broken record: It's like a broken record. He just keeps winning over and over again. Ben Miller went 3-0 yesterday, nailing two plus-money underdogs among his three MLB picks. That netted him $417! That puts Ben up $2845 for the last 30 days. Yeah, he's at the top of our 30-day leaderboard too.
Riding the dogs: Info Plays and Frankie the Fan – yes, fans can be cappers too! – each only made one pick, but they were both on big underdogs. Info Plays was on the LA Galaxy in MLS action at +255 and Frankie hit on Caroline Wozniacki in US Open women's tennis at +247. Their wins put Info Plays and Frankie the Fan at No. 2 and No. 3, respectively, on yesterday's board.
Sports Hub rules: Our Sports Hub experts were alive and well getting ready for Thursday night football. Dan Jones ($245), Ross Walker ($205), and Ryan Davis ($200) were all among yesterday's top-10 and took home at least $200.
Big Two: It's worth noting as we head into Thursday night football and the college and NFL seasons, that bettors could have a nice, fat bankroll if they had just tailed Ben Miller and Robert Ferguson over the past 30 days. Bettors would have won 62.6 percent of their picks (117-70) and collected $4510 in winnings!
Thursday Night Football Is Trending
So, we've been talking about it ever since we started Sports Hub mania. It's Thursday night football and, finally, we have some. A nice smattering of college games is on the schedule, just enough to keep bettors and Sports Hub handicappers happy for the last Thursday in August. While Thursday night football is the biggest trend, there are a handful of others.
Let's check them out.
It's here!: College football started last Saturday with Week 0, but that was just a teaser. Tonight, we've got Thursday night football in the form of 11 college games. Tonight starts off a long weekend of college football with games on Friday, Saturday, Sunday, and Monday. It just doesn't get much better than this.
Messi magic: Lionel Messi ran out of magic last night in his MLS debut with Inter Miami CF. Miami and Nashville SC played to a 0-0 draw. Messi's squad had recently beaten Nashville for the Leagues Cup title. Messi and Miami will play again on Sunday against LAFC.
Another day of dingers: On Tuesday, the Phillies tied the August record for most home runs in the month (57). Last night, the Phillies broke the record with an historic home run by star Bryce Harper. Harper's homer in the eighth inning was the 300th of his career. It was his 15th home run of the season and 10th in the month of August. Philadelphia now holds the NL record for most home runs in August and they are tied for third for the most home runs in any month of the season.
Post All-Star break: The Los Angeles Dodgers are 32-11 since the All-Star break. They have the highest run differential (+94) and have allowed the fewest runs (3.70) since the break. The Seattle Mariners are a close second at 31-13, which is why Seattle is now tied for first place in the AL West.
Thursday Night Football Is on the Schedule
Finally, we have some Thursday night football. Next week, we'll have the big NFL kickoff and even more Thursday night football. Today's schedule will get you primed for the first full weekend of college football. It's Labor Day weekend too. That means there will be college football games all weekend. Stay tuned to Sports Hub for all the latest on the daily sports schedule.
Here's a look at what's happening today.
First full weekend: Thursday night football is now a thing. From now until December, we can tune into either college football, the NFL, or both. We kick it all off with 11 games on the college schedule. Florida is at No. 14 Utah in a rematch of an early season game won by Anthony Richardson and the Gators last year. Utah will play without starting QB Cam Rising.
Light day in baseball: Most of MLB's 30 teams will have a well-deserved day off. There are only four games on the MLB schedule. That doesn't mean our No. 1 MLB capper Big Ben Miller will be off. Check him out in the member's area for his best MLB picks as well as his picks for Thursday night football.
Soccer: Messi's magic may have fizzled last night, but there is a ton more soccer on the schedule today. UEFA Europa League and Conference Qualifying matches dominate the schedule along with men's and women's NCAA soccer.
Top seed in action: The US Open tennis tournament continues with second round action today. Top men's seed Carlos Alcaraz is in action against South Africa's Lloyd Harris. The winner advances to the third round.
WNBA: After an off night, the WNBA is back with three games as the league gets closer to the end of the regular season. Washington visits first-place Las Vegas, Phoenix is at Connecticut, and Seattle travels to Los Angeles to face the Sparks.
That'll do it. It's a beautiful day in sports as we get some Thursday night football for the first time in a long time. Enjoy the games and be sure to check out your favorite handicappers in Sports Hub's members area. If you're not already a member, click the JOIN NOW button above to get started. We're here to help you through the 2023 college football and NFL seasons. Want more wins? Join now and come back tomorrow for a recap of how today played out.