I figured today would be a great day to take a look at the Sports Hub betting blog. Like everything on our easy-to-use website, the blog section is designed to help sports bettors & potential handicappers.
There is a vast amount of outstanding content for members to utilize as they seek more betting wins and a fatter bankroll. Before we dive into today's leaderboard and take a look at the sports world, let's examine this great feature.
What You'll Find in Our Betting Blog
Our betting blog is extremely diverse.
In our blog, you'll find tons of original content for the Big 4 sports; football – both NFL and college football – basketball, baseball and hockey. We also have regular articles featuring MMA, golf, tennis, the Canadian Football League, F1, NASCAR, cricket, soccer, horse racing, tons of soccer and more.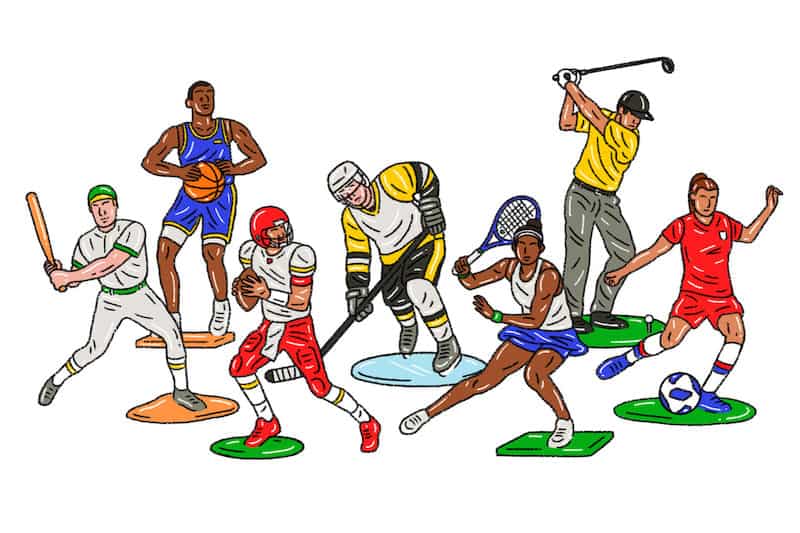 The fun and excitement doesn't stop there though. You never know what you'll see. We'll be writing articles about the best best movies (which is coming soon btw), sexiest NFL cheerleaders and other pop culture topics.
You'll see our betting blog broken down into three sections:
Tips and Strategies – how to win more bets
Betting Guide – daily analysis on games, tournaments & events
Gambling Insights – industry news
Breaking Down Our Betting Blog Sections
In our tips and strategies section, we will regularly be posting quality content to help build a community of smarter bettors. We recently posted a great article that broke down In-Season NBA Tournament betting. It has a full breakdown of the inaugural tournament, including the format, dates, prizes & awards, and of course, betting tips.
The analysis section of our betting blog is where bettors will get in-depth breakdowns of individual games, events and everything we feel you want to know about. The majority of these articles are written by our exclusive handicappers. This way, you'll not only get professional handicapper picks, you'll also get the inside scoop directly from the brain of a pro.
Our industry news section has a ton of great articles as well. Here you'll find our daily article – like the one you're reading now – where I do my best to point our users in the direction of the hottest handicappers and winning picks. Afterall, we're here to boost your betting bankroll. Our goal is to get you making more withdrawals than deposits at your sportsbook. You'll also find complex betting blog topics that are broken down so everyone can understand in this section.
You're going to want to bookmark every section of our betting blog. We care a lot about the content in our betting blog. We'd love to know what you think about our content; what you'd like to see and what you're not so keen about reading. Remember, our reach is worldwide, so we are doing our best to satisfy every visitor to SportsHub.com.
More Winners on the Leaderboard
Remember yesterday when I talked to you about our pick center? I mentioned my cousin, Computer Picks. If you haven't joined Sports Hub yet, Computer Picks is one reason you need to pull the trigger.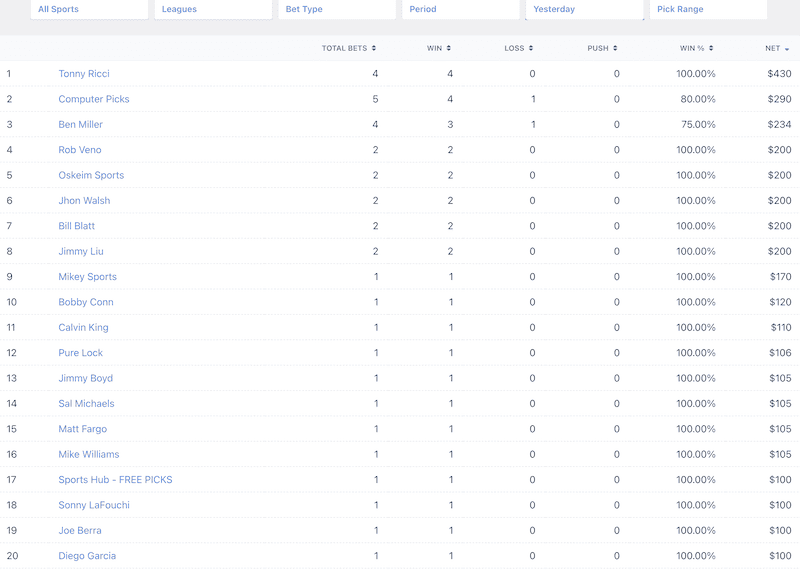 Over the past four years, Computer Picks wins at a 59 percent clip. Yesterday, he got it done and ended up near the top of my leaderboard. Only a Sports Hub expert stood between him and the top.
Let's see how our handicappers did yesterday.
Big Tonny: Tonny Ricci is so big he needs two N's in his name. Yesterday, he nailed all four of his MLB picks for a cool $430. Tonny is our No. 2-ranked MLB capper and he is now up $1554 over the last 30 days.
My cousin: I can see it now at the next family gathering. Computer Picks will be walking around with his chest puffed up after his 4-1 day yesterday. My boy hit four of five picks, missing on a WNBA total. CP is on a two-day 5-2 run. With $290 in winnings yesterday, he's up $1600. I'll never hear the end of it.
Sports Hub Exclusives: We're not ones to gloat around here, but we do call a spade a spade. If you go to our leaderboard, the default data shows ALL SPORTS – LAST 30 DAYS. From here, you'll see 7 fellas had a profit of over $1000 last month. 5 of those 7 are Sports Hub exclusive handicappers, including the Top 3, James Acker, the aforementioned Tonny Ricci & Ross Walker. Oskeim Sports sneaks in there with a remarkable 80% win percentage – 21 and 5 – followed by Joe Berra. Word on the streets is Joe has a few things cooking inside this project. If you have any questions, concerns or comments, email Joe directly at

[email protected]

. He'll find the answer.

Ben Miller: OK, I said I wasn't going to gloat … but … another day, another Sports Hub exclusive handicapper at the top of the leaderboard. Ben hit on three of four MLB picks and pocketed $234. We just talked about him and he's up $1136 over the last 30 days.
World Cup: With the women's World Cup starting yesterday, you've got to check out Ross Walker, Hunter Price, and Gino DeLuca. They are our top-3 soccer cappers over the last seven days. You can also check out our betting blog for tips on how to bet on soccer. We have another FIFA Women's World Cup pick article being dropped very soon. Be on the lookout.
Today's Sports Schedule
We just mentioned the women's World Cup. More matches will take place today. MLB will have all 30 teams in action and once again, it's a pretty decent sports day for late July.
Let's check out the schedule.
Team USA: Two-time defending World Cup champion Team USA will open play against Vietnam today. The American women are a +225 favorite to win a third straight World Cup.
More CFL: Last night, Winnipeg beat Edmonton 28-14. Scott had the under in his CFL article – putting another W up for Sports Hub. Week 7 continues tonight with Toronto heading to Hamilton. The Argonauts, the East Division leaders, are the last unbeaten team in the league at 4-0.
Round 2: The Open Championship continues today with Round 2. Favorite Rory McIlroy shot an even-par 71 yesterday. There was a three-way tie at the top of the Round 1 leaderboard – Tommy Fleetwood, Emiliano Grillo, and 6-foot-8-inch South African amateur Christo Lamprecht.
WNBA: Computer Picks killed his WNBA picks yesterday. There's only one game for him to potentially pick today – New York is at Washington.
X Games: I mentioned this yesterday for all those interested in some weird things we call sports. The X Games kick off today.
What You Need to Know
Every day there truly is a ton going on in the sports world. Sometimes, it's hard to keep up. That's why we bring you this section everyday. We try to bring you everything you need to start your day when it comes to sports and sports betting.
You can use the information I provide about our handicappers each day. There is also the Sports Hub betting blog, which is full of great content. The pick center is always available and each day I also point out what's trending in the world of sports. It pays to know more.
Here's what's trending in sports.
SOLD: The Washington Commanders have been sold to the Harris group for $6.05 billion. It's a record number for a sports franchise. The sale was approved yesterday by the NFL owners.
The O's: Just north of the Commanders, the Baltimore Orioles have taken over sole possession of first place in the AL East. The O's beat Tampa Bay last night 4-3 in 10 innings. Baltimore is 59-37 and is one game ahead of the Rays.
SEC Media Days: These were held Wednesday and Thursday. Check out Twitter and you'll see all the snippets of Ole Miss head coach Lane Kiffin looking like he just parked his surfboard before his interviews.
NFL training camps: The Cleveland Browns begin training camp today with all rookies and veterans in place. Several other teams, including Washington, will see rookies report today. By the end of next week, all 32 NFL teams will be in camp.
There you have it. Enough information to help you in your quest to win more bets today. Remember, if you need more help, check out our betting blog. Our betting blog is already rated 5 STAR! Come back tomorrow for even more!