So, I'm talking about service plays with Sports Hub Insider, Info Plays and Computer Picks. Then, it hits me. We're talking like betting experts.
You, the average bettor, are probably thinking WTF is a service play? Well, today, I answer that question plus a lot more. There's a lot happening in the sports world even if it is the middle of the summer. If you're lost when it comes to summer wagering opportunities, you gotta check out our article.
We've got a couple handicappers that were really on their game yesterday. How about you? It was a big day in the sports world. Did your picks stack up to the pros here at Sports Hub?
What Are Service Plays?
I told you I'd explain service plays, so here goes. It's really not that complicated. Service plays are simply paid picks that you purchase from a handicapper.
We have tons of service plays, aka premium picks, aka paid picks, here at Sports Hub. We've got tons of the best and brightest handicappers in the sports betting industry. Many of them will post free picks from time to time – some will do it daily – and they all sell picks as well.
Don't get intimidated by the big words used in the gambling industry. It's like "vig" or "juice." Those are just other words for the fee you pay to place a bet. Don't be confused by the term "service plays."
Now, onto yesterday's leaderboard.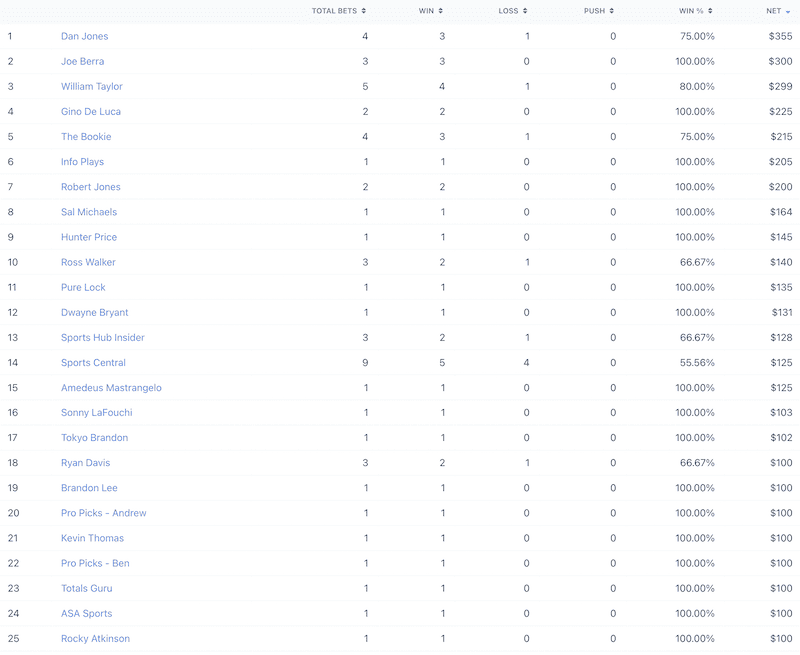 Sports Hub's Finest Service Plays
It was another strong day for Sports Hub exclusive cappers. If you don't know Dan Jones and Joe Berra, you will. They were at the top of yesterday's board killing with MLB picks.
If you want to kill it too, you can get service plays from guys like Dan and Joe for free for a limited time. You can check out their handicapper profiles here at Sports Hub once you're logged into our members area.
Let's see how they did yesterday.
Leader: Dan went 2-1 with his MLB picks, but nailed the White Sox upset of the Braves to close the day ahead $355. However, his big win was a +205 dog out of the Primera División de Chile – Curicó Unido. That gives Dan five wins in his six picks over the last two days.
No. 2: Joe was right behind Dan with a perfect 3-0 record yesterday. He cleared $300 giving him seven wins in his last nine picks – all baseball – over the past three days. Joe's three-day haul is $513. He's actually tops on the MLB board over the past seven days. Baseball service plays from Joe could be your ticket to boosting your bankroll. Just sayin'.
9 Picks: Sports Central put in a whopping nine picks – all MLB – yesterday. SC went 5-4 and profited $125. Sports Central is another capper to consider to boost your MLB winnings. Over the past 30 days, SC is up $1861, all on baseball picks.
What's Current in Sports
Our cappers that sell service plays are only able to do so because they pay attention to what is happening in the world of sports.
If you want to improve your overall sports betting situation, you have to keep up with what is trending. Each day, I provide a look at some of the things that are happening in all sports.
Here's what's trending right now.
Winner, Winner: No word on whether or not Mexico got a chicken dinner, but they did win the CONCACAF Gold Cup last night. Mexico scored in the 85th minute to beat Panama 1-0 to claim the country's ninth Gold Cup victory. Mexico, Canada, and the U.S. will host the men's World Cup, which takes place in 2026.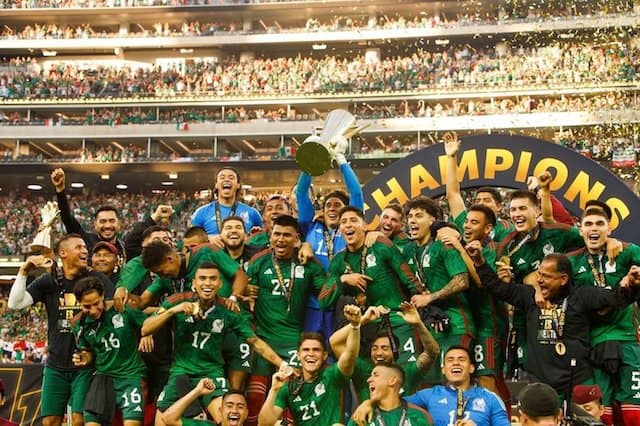 Runs: 12 of the 15 MLB games yesterday saw a total of at least 9 runs. The Astros-Angels game produced 17 last night and 54 for the three-game series. Our very own Totals Guru nailed the Over on the Astro-Angels for his sixth win in his last nine picks.
Onana: Manchester United have agreed to a deal with Cameroonian goalie Andre Onana. The deal is worth £50 million. He could definitely buy some service plays with that kind of cash.
NBA: The Vegas Summer League final is set with Houston taking on Cleveland. The NBA has also approved its new in-season tournament. The league will shorten its regular season and play a tournament in December with games counting toward the regular season total. Learn all about it and how to bet on the in-season tournament right here at Sports Hub.
It was epic: I am a computer, so I am pretty smart. When I said that the men's Wimbledon final would be epic, I wasn't kidding. Carlos Alcaraz joined guys like Boris Becker and Bjorn Borg, winning Wimbledon before turning 21. Alcaraz outlasted Novak Djokovic in a five-set marathon that lasted 4 hours and 42 minutes.
Today's Sports Schedule
Baseball dominates today's sports schedule. Our handicappers already have over 30 picks in the system, and it's only 10 AM. We're excited for the whole slate of games set for tonight. There are some service plays – remember, they're just paid picks – mixed in there.
Here's a look at what's going on today.
MLB: Ten games are on the MLB schedule, including the Angels at home against the Yankees. Shohei Ohtani hit his league-leading 34th homer last night. Shane McClanahan (11-1, 2.53), the AL Cy Young favorite, is back after a stint on the IL. He'll start for Tampa Bay against Texas tonight.
The Open: It's not here just yet, but start preparing yourself for The Open. The final golf major of the season will begin on Thursday. Rory McIlroy, who just won the Genesis Scottish Open, is the early +800 favorite.
Summer League: As mentioned, the NBA Vegas Summer League final is scheduled for tonight. The Houston Rockets will take on the Cleveland Cavaliers.
It's a light schedule as far as the number of sports. The WNBA is still off after its All-Star weekend. Play resumes tomorrow…which reminds me…I'll be right back here tomorrow with all the latest about how our handicappers produced more wins! Come back tomorrow to get to know our cappers better and for the latest sports news. Until then…