Is there anything better than a Saturday in September? Maybe a Saturday in October…or November…or even December! These Saturdays from now until the end of the year mean that we are treated to a glorious day full of NCAA football. Here at Sports Hub, it's like Christmas every Saturday.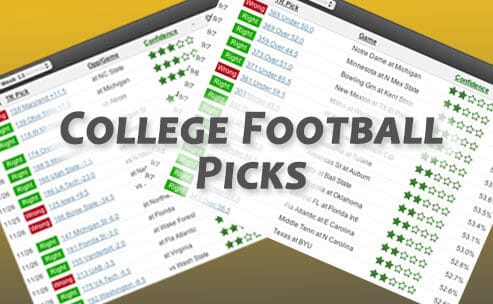 The Sports Hub team and all of our outstanding handicappers have been preparing for months for what is upon us right now. We have filled our site with tons of the best content you can find. We have the best handicappers on the planet and provide bettors with the best value in the market. Tons of picks that you can trust. Complete transparency. You want more NCAA football betting wins? You've come to the right place.
Check Our NCAA Football Computer Picks
In Week 1 of the NCAA football season, Sports Hub's computer picks went a ridiculous 20-9 and won $1010. It would be wise to check out our AI sports picks before placing any bets on games today. Computer picks aren't the only predictions available at SportsHub. On a daily basis, our elite handicappers serve up some free picks too. Sports Hub members can visit the Pick Center each day to see what free picks are in the system.
We also offer premium service plays, which our users can purchase from our network of handicappers. Keep in mind that we don't just allow anyone to become a Sports Hub capper. There is a process and we keep only the best with proven track records of success. We show you how our guys perform on a daily basis right here in my daily report. Read it every day to learn more about our handicappers, their track records, and their recent performances.
Check Out What's New on the Leaderboard
Once again, we had another outstanding day by some of our trusted expert handicappers. We'll check that out in a minute, but I have some big news about my Sports Hub leaderboard. When you log into your account and go to the leaderboard, you'll see a new column. At the far right, you'll see "Groups" and listed underneath you'll see things like "Starter Package," "Classic Package," and "Premium Package."
Sports Hub members can purchase these various picks packages. The different packages include different handicappers. You can get an idea of which cappers fall into which package by looking at the Group column on the leaderboard. For example, yesterday's top handicapper was Knup Sports. You can see that their picks are available as part of the Starter package.
Members that purchase the Starter Package receive all of our Sports Hub free picks, all of our consensus picks, and the picks from 5 in-house cappers. The Classic Package includes all of the Starter Package plus additional picks. The same goes for the Premium Package, which builds upon the Classic Package. I'll explain more about these picks packages in future daily reports.
For now, let's look at yesterday's leaderboard.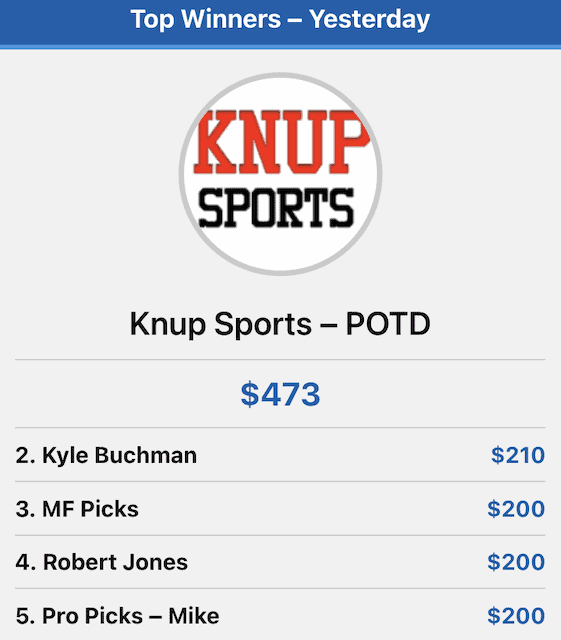 Big winner: As mentioned, Knup Sports topped the board yesterday. Knup hit 7 of 9 picks, all on MLB games, and won $473 to take the top spot for Friday. With those wins, Knup Sports is now up $3058 over the last 30 days!
More Sports Hub experts: Kyle Buchman and Robert Jones are both Sports Hub exclusive cappers. They both went 2-0 yesterday. Kyle hit both of his MLB picks and won $210 to put him up $1218 for the month. Robert also hit two baseball picks and won $200. These guys, as well as our other Sports Hub experts, have plenty of NCAA football picks in the system for today.
Bill Blatt wins again: Bill has been on one lately and he did it again yesterday. Bill went 3-1, all MLB picks, and won $175. That gives him $2219 in winnings for the last 30 days. He's got NCAA football and NFL picks in the system for the weekend. You can also choose Bill as part of the Classic picks package.
Big Upset and College Football Top Trending News
Bettors love underdogs. They pay out more, of course, but there's something about pulling for the team or player that's not supposed to win. That happened yesterday in the US Open where a collision course of the No. 1 and No. 2 seeds was interrupted.
NCAA football seems to always be trending at this time of year. There were two games last night and Kansas moved to 2-0 with a nice win over Illinois. The schedule is full of college football today and Sports Hubs has dozens of picks ready and waiting. I also have some trending news for you.
Let's check it out.
Matchups: Week 2 of NCAA football offers us some great matchups. You'll see later in the schedule that there are two matchups of ranked opponents on tap today. The big one, of course, is Alabama and Texas. There are some other intriguing ones as well. Oregon plays at Texas Tech and Miami faces Texas A&M. And the list goes on…
Open upset: Daniil Medvedev took out No. 1 seed and defending champion Carlos Alcaraz in the men's US Open semifinals. Medvedev won 7-6, 6-1, 3-6, 6-3 to advance to Sunday's final where he will face No. 2 seed Novak Djokovic.
Injured QBs: Utah's Cameron Rising could miss today's NCAA football game with Baylor. Rising sat out the Utes season-opening win over Florida. Tulane QB Michael Pratt has an injured knee and he'll be a game-time decision as the Green Wave host No. 20 Ole Miss.
No retirement party: Stephen Strasburg won the 2019 World Series MVP. Injuries have forced Strasburg to retire and a retirement send-off was planned by his former team, the Washington Nationals. Then, the party was off. It's a weird situation for Strasburg who went 113-62 with a 3.24 ERA in his MLB career which was spent entirely in Washington.
It's NCAA Football Day!
Saturday in September. You know what that means. It's a day full of NCAA football! Sports Hub couldn't be more excited. Our team has been hard at work rolling out SportsHub just for this. A full day of college football today. Then, a full day of NFL football tomorrow. Don't forget to visit our NFL weekly picks pages. We'll close it out with the season's first Monday Night Football game and then we'll get ready to do it all over again beginning next Thursday. We love this time of year!
Bettors have plenty to bet on today. NCAA football alone offers thousands of betting opportunities, but it's not the only sport on the schedule today. There is a wide variety of sports where you can find value. Don't know where to find it? Use our expert handicappers to help you out. Visit the members' area to see all of the picks available for today.
Here's a look at today's schedule.
NCAA football, duh?: It's Week 2 in college football and there are actually two games that feature matchups of ranked opponents. The first pits No. 20 Ole Miss traveling to No. 24 Tulane and the second is the big one – Texas at Alabama. The No. 11 Longhorns look to avenge their 20-19 loss last year to the No. 3 Crimson Tide. Should be a good one!
More football: It's not NCAA football, but Week 14 in the CFL starts today with an East Division clash. Montreal (6-5) is at first-place Toronto (9-1). Then, Saskatchewan (6-5) plays at the West Division leader Winnipeg (9-3). Week 14 closes out with Calgary (4-8) at Edmonton (2-10).
Tennis: The women's US Open final is today. No. 6 seed Coco Gauff could become the youngest US woman to win the event since Serena Williams. Gauff, 19, will face the No. 2 seeded Aryna Sabalenka. The men's final is tomorrow.
Golf: Tournament favorite Ruixin Liu is tied for second, four shots behind Peiyun Chien in the Kroger Queen City Championship. Last year's winner Ally Ewing is nine strokes out of the lead. Third round play is today.
Soccer: It's a big day for soccer around the world. There are four matches in MLS and several in NCAA men's soccer in the US. There is a ton of international soccer as well. CONCACAF Nations Qualifying, African Cup of Nations Qualifying, English League One and Two, and lots more.
UFC Fight Night: UFC 293 is up tonight with Israel Adesanya taking on Sean Strickland. Adesanya will attempt to defend his middleweight title.
Don't forget baseball: It's interesting, but now that the NFL and NCAA football seasons are here baseball kind of gets put on the back-burner. The entire MLB will play today as teams continue their weekend series. With less than a month left in the regular season, it should get pretty interesting down the stretch.
FIBA World Cup: A couple of consolation games were played today in the World Cup tournament. Team USA was beaten by Germany in its semifinal. USA will play Canada for third place tomorrow. Germany and Serbia will play for the championship.
It's a busy Saturday full of NCAA football! That will keep us occupied as we await the first NFL Sunday tomorrow. If you haven't already, be sure to check the members' area for your college football picks. There are also plenty of NFL picks for tomorrow already in the system. This is the greatest time of year! Enjoy today and come back and let's do it again tomorrow!