NFL kickoff. It's the moment we've all been waiting for since early February. Right after the Kansas City Chiefs won Super Bowl 57, we were longing for another football season. Well, now it's here! That means Sports Hub kicks it into high gear, if you can believe that. We've been operating in high gear since our own kickoff in July. You can find more information about the first week of the season on our NFL Week 1 picks page.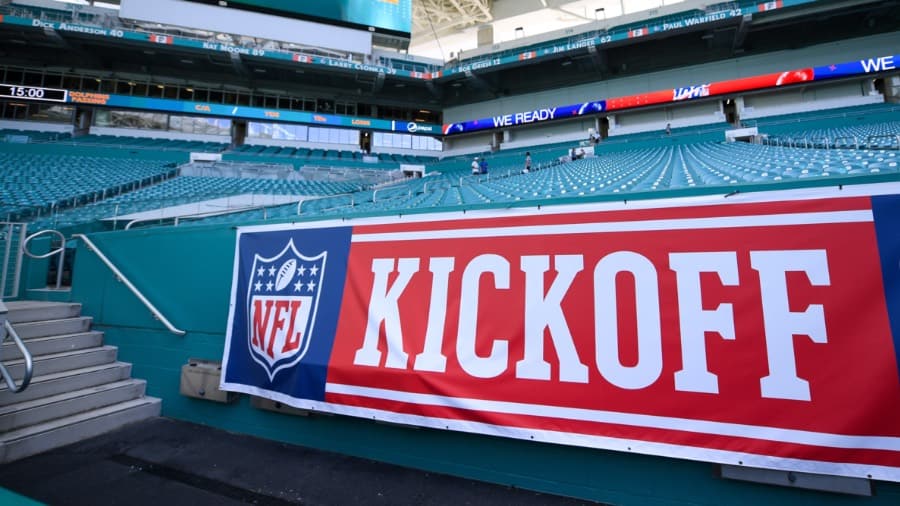 Our team of industry professionals identified an area of the sports betting industry that was lacking. There was a huge void in the technology available for sports handicappers. With our expertise in developing pay per head technology, we developed a solution. That solution is what you have been seeing for the past two-plus months.
The Sports Hub Solution for Bettors and Handicappers
Sports Hub uses technology similar to pay per head to allow handicappers to put picks into our system. It also allows bettors to go into the system and view those picks before they place a bet. All of the picks are recorded and bettors can see which cappers are doing well and which ones are not. Everything is recorded. There is full transparency, which is something that bettors have longed for.
Bettors who join Sports Hub gain an advantage over the competition. They have access to hundreds and thousands of picks each and every day. The picks come from Sports Hub's network of handicappers, many of whom are exclusive to SportsHub. That means you can only get their picks here. If you've been visiting the site and reading my recap on a daily basis, you know that there is one thing our Sports Hub experts are good at – winning!
To show how good these guys are, let's move on to my daily breakdown of the previous day's leaderboard.
Sports Hub Experts Drop Mic
Make picks. Go unbeaten. Repeat. That's the deal here at Sports Hub where our top-3 yesterday combined to go 9-0 and win over $1000. It was a 'drop the mic' moment as Geovanny Araya, Evan Lewis, and Seth Cohen all went perfect and went home with a fatter bankroll. It is what we do here and our guys are ready for tonight's NFL kickoff. Check the members' area for picks for tonight's game.
Here's how our handicappers did yesterday.
Soccer expert: All it takes is two picks. That's what Geovanny Araya said yesterday. He is one of our leading soccer experts here at SportsHub and he put two soccer picks in yesterday. Boom! He nailed both at plus-money to take home a cool $433. Geovanny is your guy if you're looking for soccer picks. Over the last 30 days, he's up $1031.
Back again: Evan Lewis has been here before. He's a SportsHub expert who went 4-0 yesterday and won $400. Over the last three days, Evan is 6-2. Over the last 30 days, Evan is up $1631! This is a guy you'll want to check out for picks for tonight's NFL kickoff.
Beam me up: If you tailed Scott's Picks yesterday, you got beamed up to three wins and $300. Scott's Picks hit all three of its MLB picks and is now up $1359 for the last 30 days. Over the last 14 days, Scott's Picks has won 56.92 percent of its predictions.
Looking for kickoff picks?: I can't guarantee it, but if you're looking for picks for tonight's kickoff game, you should check Sports Hub today to see if my boy Computer Picks releases any. Remember, our computer picks are only released when there is a two-point difference between the actual betting line and our own computer-derived line. In its last 30 picks, Computer Picks is 21-9 with winnings of $1110. Just sayin'.
We Kickoff the NFL Season Tonight
NFL kickoff, duh!? Yes, the NFL gets underway tonight. I could just drop the mic and be done with it, but there is a lot of other trending sports news. And remember, winning bettors win more bets because they have more information. That's what I do here. I offer you information that can help you achieve more success with your bets.
With that said, let's check out what's trending in the world of sports.
Travis Kelce: The Kansas City All-Star TE might not play in tonight's kickoff game. He hyperextended a knee in Tuesday's practice. There's no ligament damage, but he is listed as questionable for tonight. Kelce not on the field tonight would have a dramatic affect on tonight's outcome.
Since 2014, Travis Kelce has not missed a single game due to injury 😨

Kelce is listed as questionable tonight vs. Detroit after hyperextending his knee in practice. pic.twitter.com/Nc7oDYAGgz

— NFL on ESPN (@ESPNNFL) September 7, 2023
USA Tennis: No Serena? No problem. Coco Gauff and Madison Keys will represent American women's tennis in the semifinals of the US Open tonight. Sloane Stephens was the last American woman to win the US Open back in 2017. Williams won three straight from 2012 to 2014.
Astros: Houston just completed a sweep of AL West Division rival Texas. The Astros are back on top in the division standings with a one-game lead on Seattle. It wasn't just the three wins though. Houston is hitting the ball so well that the Astros have put up the following run totals in their last three games – 12, 14, and 13. Houston has now won eight of its last 11 games. In those eight wins, the Astros scored in double digits five times. Houston is averaging a ridiculous 8.9 runs per game over their last 11.
LeBron: The King is trending as the Lakers add some pieces to the puzzle in the offseason. Los Angeles added 6-10 Christian Wood and 7-footer Jaxson Hayes. That means Anthony Davis will play fewer minutes at center next season. And because of that, LeBron is trending.
NFL Kickoff Tops Schedule
It's finally here! The 2023 NFL kickoff is tonight and we couldn't be more excited. For the next four-plus months, we have NFL football every week. We're back in season! While the NFL kickoff leads today's schedule, there is a lot of sports on the schedule.
Let's check it out.
Thursday Night Football: Defending Super Bowl champion Kansas City hosts the Detroit Lions in the annual NFL kickoff game. The game marks the beginning of the new season and gets us primed for a whole weekend of football.
Don't forget college football: Every Thursday also means a college football game. This week, the college football kickoff features FCS Murray State will travel to Louisville to take on the Cardinals and new head coach Jeff Brohm. Don't forget to check out our Week 2 NCAA football picks page.
Light baseball day: There are six games in MLB as teams get ready for their weekend series. The Dodgers are in Miami trying to salvage a win in the final game of the series. The Braves host St. Louis trying to do the same thing.
Must win in WNBA: There is exactly one playoff spot remaining in the WNBA postseason. Chicago and Los Angeles have identical 16-22 records. The Sky owns the tiebreaker having beaten the Sparks in 3 of 4 games this season. Tonight, LA travels to New York to take on the second-place Liberty. A win puts them a half-game ahead of Chicago, which plays at home against Minnesota tomorrow.
Women's semifinals: The US Open continues to get closer to its weekend finish. Today, the women compete in the semifinals to determine who will battle for the title on Saturday. In the first semi, 19-year-old Coco Gauff takes on No. 10 seed Karolina Muchova. In the other, No. 17 Madison Keys faces the second seed, Aryna Sabalenka. The men's semifinals are tomorrow.
Golf: The LPGA is in action today at Kenwood Country Club in Cincinnati, Ohio. The Kroger Queen City Championship begins today. Xiyu Lin (+1100) is the favorite to win. Ally Ewing is back to defend her championship from last year.
World Cup: Latvia beat Italy 87-82 already today to earn fifth place in the FIBA World Cup tournament. Lithuania and Slovenia will also play today. Team USA will face Germany in the semifinals. Canada takes on Serbia in the other semifinal.
Get used to it. With football back in the fold, Thursday's are going to offer a pretty full schedule. We've got a lot of sports on tap today and that gives bettors a lot of opportunities for wins. If you're looking for more wins, tap into our vast network of professional handicappers. Sports Hub offers tons of free picks, computer picks, and premium service plays from the best expert handicappers on the planet.
If you haven't joined Sports Hub yet, there's no time like the present. Kickoff the wins by clicking the JOIN NOW button above. Follow the prompts, verify your email, and you will be part of the hottest movement in the sports betting industry! Come back tomorrow and I'll tell you how our experts did today. Until then…